Perfume Review & Musings: Pamplelune by Guerlain (1998)
Pamplelune is part of the Aqua Allegoria line. It was composed by nose Mathilde Laurent who is also the creator of Shalimar Light - the 2003 version - and Attrape-Coeur. It was launched in 1998.
Pamplelune offers a variation on the grapefruit theme which is not only meant to refresh but to be distinctive and original. It is a fresh and sophisticated fragrance with a marked presence, some may say, too marked a presence. It is not as light and fruity as some of the other Allegorias. The scent flaunts asperities and does not wish to compromise with pleasantness....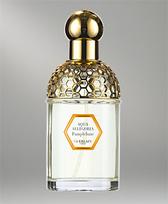 Fragrance Notes are: California Grapefruit, Italian Bergamot, Neroli, Petitgrain, Black Currant, Patchouli, Vanilla.
The composition opens on a burst of acidic, juicy grapefruit enhanced by other citrus notes such as bergamot and petit grain. A dry nuance is immediately apparent; one can smell light, dry touches of patchouli. You can also detect some mint.
Next, the perfume becomes rounder, sweeter, fruitier and a little flowery with the neroli and the blackcurrant notes becoming most apparent to the nose. The sweetness then starts to recede and a more acrid and austere accord emerges with the fruity grapefruit still hovering in the background but now with softer, polished edges.
At this stage, the sulfurous, thiol note that is natural to grapefruit and blackcurrant makes its presence felt. The perfumer has chosen to emphasize this aspect of the fruit rather than suppress it unlike the choice made for Eau Fantasque by Fragonard which also contains both these slightly mixed-feeling notes. It is a very astringent and dry - even acrid note - which is not unpleasant but not meant to convey easy-smelling either.
Perfume critic Luca Turin proposed a small experiment whereby he suggested you should try smelling garlic and Pamplelune side by side to catch a whiff of the common sulfur note. Out of curiosity you can decide to follow his suggestion. You can then perceive the kinship between the two but while there is affinity across the spectrum of the aromas, they remain well separate in terms of their identities.
However, Pamplelune does evoke that human excretion stigmatized as "B.O." as the drydown progresses. It makes you think of natural skin musk. That facet is omnipresent becoming more pronounced as the drydown evolves.
Pamplelune is arguably a controversial fragrance to wear in the context of the so-called "Deodorized Society" in which we are invited to evolve today. This remark gets validated the further you go West, it seems. In North-America body odors are supposed to be masked while a reconstructed clean, non-offensive, scented barrier is put between you and the rest of society. In some cases, "unscented" is the way to go.
This over-sensitivity to human smells is particularly strong in the US where the acronym B.O. perfectly illustrates the obsession most people have of smelling out-of-control that is, "bad". In 17th century France, it was not so and in 20th century France, a tolerance for stronger perfumes persist. In old-regime France, people wore perfumes to enhance their natural body odor according to cultural historian Alain Corbin hence a marked taste for animalic scents such as amber, musk, and civet.
Pamplelune is an interesting scent. It goes against the grain of societal preferences affirming a personality of its own while playing with a summery note evoking breakfast, glasses of juice and health while letting out it can suggest decay.
Out of the many Guerlain fragrances I smelled one afternoon at a counter, this one stood out (together with Mouchoir de Monsieur and Angélique Noire). Grosellina and Tutti Kiwi that same day on the other hand elicited the reaction in me that I felt I didn't like nor hated them.
Earlier today I stopped by The Body Shop and tested their new Rose Cassis. Well, my conclusion is that between smelling controversial and smelling cute - and also sickeningly banal in this case -, I'll choose the controversial perfume anytime.
You can find a 4.2 oz bottle of Pamplelune for $33.73 at Amazon.com
There is a review of Pamplelune by Cait Shortell available here on Legerdenez