Perfume Review & Musings: Rose d'Été by Les Parfums de Rosine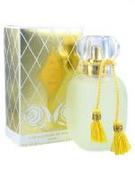 What I like about Rose d'Été (summer rose) and what makes it a distinctive rose fragrance to me is the slight scent of decay that emanates from it. It is not at all a fresh rose but on the contrary it is a rose redolent with all the scents of ripe summer fruits that surround this flower in the imaginary garden evoked by its creator. The way I sense it, it is that antepenultimate time of summer not quite yet that time just before the end of summer.

As the fragrance liberates itself from the glass phial there is a very brief moment dominated by fresh notes.Then you are invited to dip your nose into the soft satiny heart of a rose, that part of the flower which retains its scent at the heaviest. According to the description of the notes it is a yellow rose and it smells realistically so...
One can tell it is the heart of summer; the rose has reached maturity itself and is very fruity and quite syrupy, perfumed as if by simple contact with the ambient air by the scents of ripe fruits, melon and apple in this case, that linger on in its environment. Still, you can catch an evanescent smell of fresh rose petals before it dies out in that moment just before twilight, in the air rendered immobile by the hot summer day.

This mix of scents conveys the feel of a nature battered by the heat and worn by the excesses and luxuriance of summer. The scent of Rose d'Été is at this point in time when it is suggestive of both an apex and immediately next to that moment, of a descent into corruption. It is the imminence of death that colors this rose with some grave, foreboding notes. It is both a rose that is and a rose to be. This olfactory impression is reinforced by a boozy note that settles in for a while. You are then made to think of the sap of the flower and juices of fruits slowly fermenting and rotting under the combined actions of sugars, heat, and time. You are made to imagine its predictable end.

Then a more sober, dry and green note emerges more distinctively, the galbanum. It suggests dry wood, maybe vine shoots in the fall.

I find this perfume to be very interesting and appealing. The only problem for me is that the drydown is short-lived. This is truly a pity because it is otherwise a rich and evocative fragrance that avoids stereotyping the rose, not a meagre feat. If only they could improve the drydown, I would consider it an exceptional fragrance.

Rose d'Été is part of the thematic collection of fragrances focusing on the rose and put forth by Marie-Hélène Rogeon, the director of Les Parfums de Rosine. Designer Paul Poiret initially founded the Parfums de Rosine in 1911 naming the brand after his eldest daughter. The French designer known to have liberated women from the corset thus established for the first time in history a link between fashion and perfume that was to become a defining character of the 20th century's conception of perfume as a necessary fashion accessory and prestige product of the fashion houses rather than just of perfumeries. Rogeon relaunched the brand in 1991 within the setting of a confidential niche perfume house located in the Palais Royal in Paris.

Top notes are apple, galbanum, bergamot
Middle notes are yellow rose, linden blossom, mimosa, lotus blossom
Base notes are ambrette seed, musk

You can see pictures of some of the fragrances from the original line of Parfums de Rosine here.
Rose d'Été is available at Luscious Cargo for $77 (50 ml) and $100 (100 ml), Beauty Habit for $75 and Aedes de Venustas for $75 and $98.
Photo is from Luscious Cargo.