My Perfume Desires of the Week: Brosseau, Demeter, Malle
This week I have had too many perfume desires to include all of them here; it would be bothersome both to list and to read. So I have selected a few that I would like to try in the near future and that I did not mention yet on this blog. None of these are making me lose sleep over them, but they do excite my curiosity. You will perhaps notice that they share a common trait in that they all promise to smell somewhat a little singular.
Jean-Charles Brosseau Fleurs d'Ombre Violette-Menthe & Fruit de Bois for Women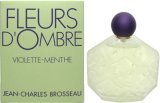 I am very much attracted to the combination of violet and mint in the first one; it promises to be an interesting violet. The name Fruit de bois attracts me because I love woods and it is yet another interesting contrast of notes.
(I have added a review of Violette-Menthe)

Demeter Lobster
In the wake of Eau de Stilton I have tried to locate other difficult-to-wear scents in the foody category and have happened on this one. There is also a sushi cologne but I find the Eau de Lobster to be potentially more challenging to the nose and therefore more worthy of a test. Notes are the sea, sweetmeat, drawn butter... just writing this made me feel hungry. Of course, I am not actually desiring it as a perfume.


Frédéric Malle En Passant & Fleur de Cassie
En Passant because everybody is swooning over it and Fleur de Cassie because many people find it offensive. Editions de Parfums cautions patrons that FdC is for the "Connoisseur" which might be a delicate way to say that it smells borderline bad. So I guess it will help you assess your olfactory limits and know yourself better.