My Perfume Desires of the Week: Rose Angel by Thierry Mugler, Ess Bouquet by Crown Perfumery, Norell Cologne by Norell
Rose Angel by Thierry Mugler

I went to Sephora the other day and although I only bought Armani Code for Her on the spot, I also came back home generously spritzed with Rose Angel. At this point I thought that the perfume smelled good, but nothing transcendant really. Until after an hour or two later; then, all of a sudden, I experienced an ineffable scent which exquisite beauty left me speechless...Rose Angel! The test of time in this case unveiled its full glory.
"After a while the perfume reminded me of laying in a hammock*on a warm summer's day.*"
It is supposed to be the last perfume in the series Garden of Stars. I regret this because I would have loved to try a Tuberose Angel, a potentially explosive cocktail* -- chocolate, tuberose, and patchouli? Oh yes! Come to think of it, I would also like to try an Ylang Ylang Angel and an Heliotrope Angel, if you please...
Ess Bouquet by Crown Perfumery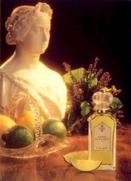 This lemming is all taken care of and a bottle* is on its way from England. I was completely sold when I read that it originated in 1711 and gained huge popularity throughout the Georgian period -- a perfume that Jane Austen could have worn! It ended up being Queen Victoria's favorite perfume. Say no more...in it went into my shopping basket.
Norell Eau de Cologne

I received the pure parfum version and will write a review of it, as promised. (Added: review of Norell by Norell) Suffice it to say for now that it is much less green than the edt version. This leads me to think that the cologne might be even greener. The cologne was, after all, the original version for Norell. I love the greeness of Norell and would want more of it.
*Sponsored links