Perfume Review & Musings: Violetta di Parma by Borsari 1870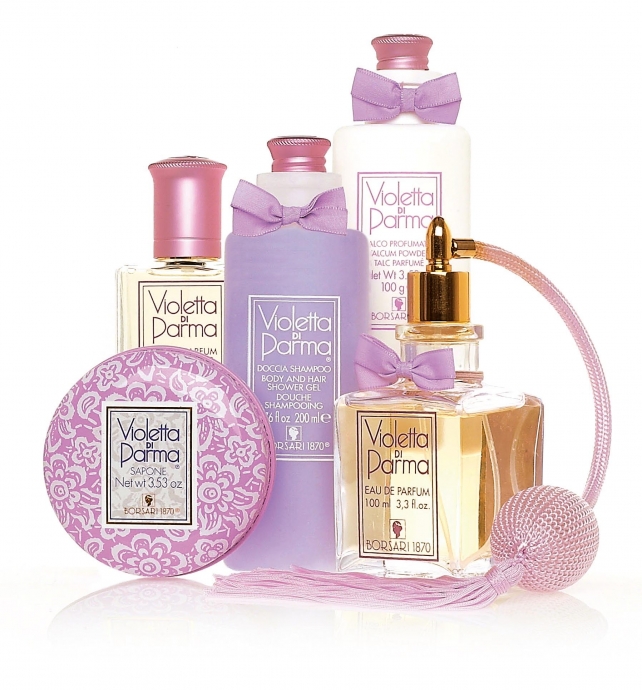 Violetta di Parma
by
Borsari 1870
is a singularly understated modest masterpiece - a true gem really. Its fragrance evokes a sentiment of perfection. It is and cannot be anything more beyond itself and the mood it sets. It is a deeply satisfying scent in my opinion...

How many hours, years, attention, intuition and sums of intelligence were devoted to reaching this accomplishment, this materpiece of psychological maturity applied to the art of perfumery?
One would need to research the archives of the Convento dell'Annunciata in Parma and/or those of the ducal palace of Colorno to understand how the frati worked in collaboration with Maria Luigia of Austria, Duchess of Parma and the second wife of Napoleon I, to obtain this subtle violet scent.
The perfume is the result of a woman's deep passion for a flower ranging from its scent to its color. We are told that prior to going to Italy to claim her duchy in 1815 she wrote from Austria to her lady-in-waiting in Paris to ask her to procure the flowers in advance, plant them and make them bloom announcing her intention to engage in the study of botany. Like many of her contemporaries Maria Luigia or Marie-Louise in French was wild about violets but it seems in this case to a degree unparalleled. Many years later in 1870, Ludovico Borsari succeeded in prying from the hands of the frati dell'Annunciata the secret formula of her beloved perfume and his company has been producing it ever since then, except for a break and a relaunch in 1925.
Violetta di Parma starts from a medium-high point suspending its first fresh transparent accord in the air; it is evocative of fern soon revealing small violet flowers coming to the fore distillating their sweetness in the middle of all the verdancy. It then evokes the fragrance emanating from a few fresh leaves being sensually crushed against each others in the hands of a forest walker pausing for a moment in the midst of nature to absorb in her or him more deeply the scents of the trees and the humid earth. You can imagine dewy leaves carpeting the soil of that forest sometimes getting stuck on the walker's shoes and at other times falling back onto the ground. You can hear the rustling noise made by leaves brushing against the silken hem of a dress; it is cool and it is very early in the morning.
The perfume then becomes gradually deeper and softer, warmer, very slightly peppery - just a tinge of it, really. The scent then goes on to follow its course, becoming subter and subtler until almost achieving how could I put it best?..........dematerialization; it becomes non-existent.
Disappointment may emerge at first. However soon enough you will discover that the scent did not leave your skin. It is still there albeit almost imperceptibly so. It is just taking a pause, gathering its forces after the initial burst of sensations.
Now, this is where Violetta di Parma reveals its true nature as a masterpiece in my opinion. I have never encountered a perfume that almost extinguishes itself in such a deliberate way and then comes back, like a tide, as an even deeper, warmer and more radiant fragrance. It is sphynx-like, a mythical human interpretation and understanding of the cycle of life and nature, of light and obscurity, of softly spoken words and silence succeeding to it, one in which one can only hear one's heart beat. If you do not smell it, you cannot see it. It is a moment of nakedness, blankness and utter simplicity.
The first time I wore it I mistakingly thought that my skin, alas, was quenching its thirst by drinking in all the essence contained in the perfume. But then to my surprise I realized perhaps twenty minutes into wearing it that the most beautiful, elegant, and sensual fragrance was scenting the air again around me. Could it be so? Yes, it was unmistakingly developing and evolving further now revealing all of its beauty made more achingly beautiful by the modesty it had revealed and the longing it had provoked. It does unexpectedly so and for a long time as it is tenacious and persistent while maintaining an aura of discretion, softness and subtlety. A veritable tour de force.
The creation of a hiatus in this fragrance for me is a mystery. Is it the natural effect of violet essence which is known to put olfactory nerves to sleep, so that one has to smell violets by approaching and then taking away a bouquet of violets further away from one's nose? Or is this natural effect artfully created so as to recreate the phenomenology of the smelling of violets? Is it illustrative of the violet flower's symbolic modesty? Or another possibility yet, is this fragrance imparted a meditative dimension of silence and quiet unconsciously reflecting the spiritual convent atmosphere of dell'Annunciata? I would like to think so.
The fact remains that no additional busy notes were added to cover that moment of retreat of the senses, perhaps another allusion to an experience of religiosity based upon a life of retreat from the world thereby provoking a retreat of the senses through the moral experience of abandonment and chastity.
Be it what it may this highly unusual trait emphasizes the depth of the perfume, its insistence on substance rather than appearance: vulgar, cheap, and showy it is not. You will find it at the other end of the spectrum. That sense of an olfactory pause mimicking muteness and silence is truly rare and precious, quite unique.
Synthetic Ionones are known to generate olfactory fatigue, exactly like the real violet flowers. They seem thus to fade away (from our perception) rather than from reality. The fact remains that this natural phenomenon was emphasized rather than masked. Intermissions were carefully arranged.
The drydown is again, what other word could we use, beautiful, tanto bellissimo, ever so slightly powdery and creamy, but mostly woody yet, keeping the transparency, the freshness of a forest brook all along. With time only the fresh stream of transparent water remains.
This is a supremely elegant perfume, one that conveys an aristocratic sense of simplicity. I warmly recommend it and think that it should be made part of every odalaphile's collection.
Fragrance notes: violet, rose, iris, jasmine, lily-of-the-valley, heliotrope, hyacinth, vetiver, musk and vanilla.
You can find a 3.4 oz spray bottle with atomizer for $35.01 at 99perfume and a 1.6 oz spray bottle without an atomizer for $34 at Luckyscent.
As a curiosity, I will post separately a picture of a bouquet of violettes from ca. 1815 containing a secret.