Scented Thoughts: Vanitas vanitatum et omnia vanitas & A Scented Palace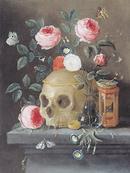 "Vanity of vanities and all is vanity" wrote the Ecclesiastes.....how very true; regardless, I am posting here a link to a lovely fashion blog, Are You A Beauty? owned by Ivy which features The Scented Salamander in her "Beautiful Blog Hunt Wednesday" column. I just learned about it yesterday and am thrilled to report that I got good press from her.
The Scented Salamander is Perfume Nuts
I will post a review of the book by Elisabeth de Feydeau, A Scented Palace, either today or tomorrow as I see that much interest was generated by it. This will be a review of the French edition, Jean-Louis Fargeon, Parfumeur de Marie-Antoinette that I had the opportunity to read several months ago.