New Perfume: Anais Anais Eau Légère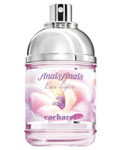 Marionnaud has received the new Anais Anais Eau Légère, a lighter version of the quintessential floral bouquet. The leather note has been removed from this lighter version.
Top notes are honeysuckle, fresh jasmine, and orange blossom. Heart notes are lily, ylang-ylang, tiare, and blossom honey. Base note is chocolate flower. The new scent is sold in exclusivity at Marionnaud for 24.50 Euros and 34.40 Euros.
Source: Marionnaud