New Perfume: Maîtresse by Agent Provocateur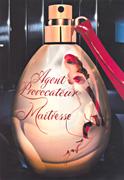 The British fashion label Agent Provocateur specializing in sexy, provocative lingerie has unveiled their new upcoming fragrance, Maîtresse ( Mistress). The flacon recalls their previous signature fragrance, Agent Provocateur, except that it is now made of gold-lacquered glass instead of an opaque pink glass. The bottle was designed by Agent Provocateur.
"The modern aldehydic floral scent is by Azzi Glasser of CPL Aromas. Ingredients feature white ylang ylang flower, lotus petals, osmanthus, jasmine sambac, rose absolute and violet leaves with a pheromonal composition of musk, iso E super and hot amber.(...) In line with the signature scent, the new EdP line is positioned at the top end, from €54 the 30ml and €110 the 100ml."
It will launch first in September in the UK, Russia, and Asia before coming to France, Spain, Portugal, the US, and the Middle East in 2007.
Rectification: Azzi Glasser is the marketing director for the fragrance and Christian Provenzano is the author of the perfume. (source: Christian Provenzano).

Source: Cosmetic News