Perfume Review & Musings: Fire Island by Bond no 9
The latest release by Bond no 9 is called Fire Island and was created by perfumer Michel Almairac of Robertet. It is the 26th fragrance issued by the New York-based perfume house. Almairac also composed their penultimate fragrance released last spring, The Scent of Peace. The nose is the author of the wonderful Burberry London for Women but also Lumière by Rochas, Voleur de Roses by L'Artisan Parfumeur, Cabaret by Grès, and Minotaure by Paloma Picasso, amongst others...
Like almost all of the fragrances issued by Bond no 9 the name of the new scent refers to a New York neighborhood, or exceptionally, as in this case, to a place intimately connected to the history and pulse of the city.
Fire Island, located on the southern shore of Long Island, is a favorite getaway for New York weekenders who regularly escape to its shores frequenting its beaches with devotion and affection despite reportedly the fact that they have to forsake their cars to get there.
The new fragrance conveys a simple message in the sense that it is a beach scent, but it also contains a hidden level of olfactory meaning which makes it a pleasurable beach scent with a meaningful historical twist to it. The complexity of the composition comes thus not so much from its notes as from its hidden and very effective ability to play with our memories, while purporting to bottle future memories of happy vacations as well.
Introduced just a fortnight ago in the middle of summertime, Fire Island, according to Bond, aims at "...bottling the scent of bronzing" and beyond that at capturing the scent of happiness and of the relaxed mood commonly experienced during leisurely vacations spent on the beach, bodies half-naked basking in the sun. Fire Island is a beach scent-cum-comfort scent; this combination illustrates a popular trend in perfumery nowadays.
The Scent of Fire Island Upon Saint Tropez
What is to me the most striking element in this fragrance is the manner in which it stands out as an olfactory monument dedicated to the memories, not only of upcoming, full-blown summer of 2006, but going deeper back in time, to that of the European seaside vacation experience of, roughly, the last quarter of the 20th century.
During that time, virtually millions of people from Europe and outside of Europe spent their holidays on the French Riviera seeking a much sought-after fashionable dark tan. The perfume thus may be called Fire Island to pay homage to New Yorkers and to express Bond's love for the Big Apple while reinforcing its myth but what it conjures up to my nose, as I freely bet it will for others with a similar experience, is Saint Tropez...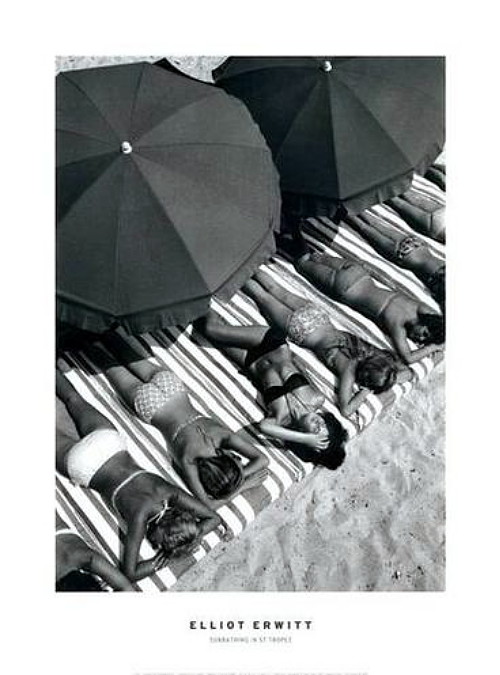 Sunbathing in St Tropez by Elliot Erwitt
The Proust madeleine effect, as advertised, is positively uncanny. The Bond no 9 press release states that Fire Island is,
"...an experiential scent - the beach equivalent of Proust's madeleine dunked in tea. In this case, the memories conjured up are the sights, the touch, the smell of soaking up the sun the old-fashioned way - lying naked or close to it on the beach."
This is not just mere rethoric. You undergo a veritable and unanticipated transformation of your consciousness through sensations revived by the scent.
I expected the scent to be (just) a sensual, interesting and sophisticated take on beach scents and could not wait to try it. I also thought that the bottle was gorgeous. When I heard about the mention of a particular accord in the perfume referring to a "premium Euro-sunscreen" I started jogging my memory for brand names wondering if Bond meant a luxury sunscreen or a more popular, mass-marketed one. It is not until I smelled Fire Island that I was able to place it. I could not find a picture of a vintage Ambre Solaire bottle that resembled my memory of a transparent amber bottle with a somewhat flat circular cap that was orange, I think.
Memories Come Trickling Back
Bond no 9, I thought initially, were perhaps referring themselves to Monoï Tahiti or Hawaiian Tropic (the latter was a popular American brand in France yet strictly speaking not a typical Euro-sunscreen.) Monoï Tahiti came to mind as it was a very popular sunscreen in France in the 1980s whose scent wafted through many a French Riviera beach. It was also worn as a comfort scent in the city by urbanites stuck at work away from the ocean and paradisiac islands of the Pacific. André Gas recently used this specific olfactory suntan oil reference for his newly released fragrance, Ensoleille-Moi. But as it turns out, I was remembering the wrong time period. As I unscrewed the cap of my fragrance sample, dabbed on a few drops and inhaled the perfume, I was brought back in time to an even earlier period that laid deep down in my memory and that I had forgotten about, but only on the surface of my consciousness.
Perfume is a powerful trigger for dormant memories. As I smelled the perfume, I saw the shape of a suntan oil bottle emerge fleetingly and vaguely at first and then become more precise overtime. It was stuck askance in the sand on a beach in the south of France. I could even see and feel the texture of the oil, the degree of its transparency, grains of sand mixed with drips of oil scenting the air from the flanks of the bottle then further away, waves licking the sand, feet playing in the water, the sound of waves, my mother splattering oil on her children's backs. I was back in Saint-Tropez with all its recreated noises and atmosphere. Then, I saw us again sitting with family friends around a wooden table on the beach for lunch, eating my favorite food of those days - a fromage blanc with fines herbes - and my favorite dessert - orange popsicles that were fun to push up - finding myself in the company of scantily clad or downright naked people either sitting around the table or scattered on the beach.
In retrospect we are able to see the 1970s as representing the height of the bronzing fashion introduced by Coco Chanel earlier in the 1920s as well as that of the monokini trend. Nudists too were not far away as sections on the beaches were reserved for them. A thought that I had entertained then re-crossed my mind as I suddenly visualized in my memory a half-naked woman with her breasts bare sitting for lunch, her nipples hovering dangerously and disquietingly, as I saw it, above her plate. I then wondered now as then "When are her breasts going to touch the food? How unpractical!" Yes, the bra is a safe barrier between body and food on a beach. More memories would emerge later. At this point, I still was not able to remember the brand name of that sunscreen bottle but a quick Google search indicated that the predominant suntan oil at the time was Ambre Solaire.
This popular oil was introduced by L'Oreal as early as 1937. For many people this will bring back memories similar to mine. Ambre Solaire was so popular that when they discontinued it they had to bring it back as people clamored for its return. I do not know if today it smells the same as it it did in the past, but this little olfactory adventure, I must say, has elicited in me a new interest for vintage suntan oil aromas.
How it Smells Like
Fire Island thus contains a few precious drops of the scent of collective estival European memory. In the present tense, it presents itself as a luxurious beach scent blending a luscious tuberose with clean, marine ozone and musky notes and a spicy and woodsy suntan oil accord. I think that it distinguishes itself from other beach scents by the finesse of its ingredients and I would say that it is an excellent rendition of the genre. I would also underline that it is as much a floral scent as a beach scent.
It opens up with a sharp and heady floral accord dominated by tuberose lending exoticism and a very slight creaminess to the perfume. The perfume then develops a slightly sweet, spicy, and woodsy sunscreen accord. It goes on to smell of clean skin washed by the sea, of salt, algae, pebbles polished by the waves, iodine with slightly piscean overtones, in a very good sense. It irresistibly evokes for me the rote of the sea and the atmosphere of a summer day spent on the beach just about anywhere in the world. The iodine accord is very realistic, rich and evocative.
Fire Island reveals extraordinary lasting power and freshness. The dry down seems to be virtually endless although it never overpowers transforming itself into a skin scent that adheres perfectly to the skin even after you have been in the water or spent the night wearing it.
Its trademark accord, this special European suntan oil aroma is successfully laced with a floral accord thus subtly reviving the initially faint background memory and echo of days long gone yet enabled to resurface anew and symbolize even here and now the smell of happiness and holidays.
Fire Island contains top notes of cardamom and ozone. Heart notes are neroli and white musk. Base notes are skin musk, tuberose, and patchouli.
Bond no 9 has a clever policy of offering various purchasing options for their scents. Purchasing options are, according to their leaflet, a 3.4 oz. superstar bottle in a box presentation ($178) and a 1.7 oz. travel size ($110). Fire Island may also be purchased by the ounce ($45), either in a 2-ounce basic spray flacon with gilt honeycomb cap ($25), in an array of fashion colored bottles ($40 - $70) or in our unique vintage or art bottles, featured in a wide variety of designs ($60 - $200)."
I personally think that the option of buying the scent by the ounce adds old-world charm to the brand and is a welcome practical insight into the development of perfume-wearing as a personal and fashion accessory as part of an eclectic wardrobe of scents.
The scent is available for purchase at the Bond boutiques and at several beauty sites, among them, BeautyCafe and A Beautiful Life. More sites are listed on the Bond no 9 website.
Pictures are from Bond no 9 and Art.com. The photo is by Elliott Erwitt and is called "Sunbathing in St. Tropez, 1959." This is the era of the bikini preceding the monokini fashion of the 70s.