Fragrant Reading & News: An Interview with Lyn Harris & News of Her Upcoming Fragrance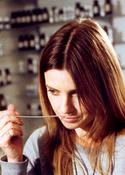 Vogue Italy has a short interview of Lyn Harris the founder and nose of Miller Harris on the occasion of the release of her latest creation, Coeur d'Eté. I have reviewed the perfume here.
We learn among other things that the perfumer is currently working on a fragrance that evokes Brittany and is based on the aromas of this region. She describes it as embodying the memory of a vacation spent there.
Source: Vogue Italy