Perfume Review & Musings: Sensuelle Russie by Esteban & Sample Giveaway (Updated)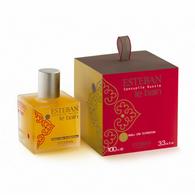 Exclusive! The newly released Sensuelle Russie (Sensual Russia) by Esteban in their Le Bain collection does not disappoint. It is a delectable and rich gourmand Oriental blend that will be perfect for this coming fall and winter.
Imagine a pot of succulent, idealized honey (let me specify that I do not like honey as a note in general but here it is a wonderful dark honey) a nectar fit only for the gods which would have accidentally or by design spilled onto a giant rough-hewn table made of fragrant cedarwood and as it slowly spread out would have mixed with tobacco and strange spices laid out there for no practical reason. Fate. The concoction thus created would have then macerated for a long, long time forgotten in the kitchen of the gods to reach, enfin, the perfect stage of aging at which point an enterprising human being would have come in and copied the molecules released by the mix and made it into a perfume...
Sensuelle Russie is a very rich and warm concoction and it is perfectly blended. I almost do not want to use the word "perfume" here because it is more evocative of a delectable drink. There are no perfumey aspects to it.
I cannot remember the taste of Russian mead (mjod) but it does remind me of Ethiopian "honey wine" only much darker and spicier and so I think this is where the reference to Russia springs from. Special spicy meads are made for the winter sometimes and in that sense too it is very suggestive of a deep Russian winter. I just read that sbiten'/zbiten', a type of mead, is being revived in Russia and its recipe makes me think of Sensuelle Russia. I include a recipe at the end of the post.

The perfume is quite remarkable in that it evokes slowness and a lava-like texture. The fragrance is like thick lava or nectar slowly flowing on your arm, not developing into very distinct stages, but slowly gaining depth and thickness and releasing very concentrated sweet aromatic notes. Since I think the reference here is to med or medovukha the term "fermented" is probably adequate to describe this impression. Although there are no tobacco notes included, it smells of it. The scent might also make you think of Ambre Narghilé or Ambre Russe but I did not think of it immediately. Despite Esteban's advertisement that it is a perfume inspired by "the marriage of hot and cold found in the Russian soul", I do not get any impression of coldness from the scent except perhaps fleetingly in the top accord which smells boozey to my nose and includes notes of bergamot and Siberian pine. Middle notes are cardamom and cinnamon. Base notes are cedar, patchouli, and vanilla. It develops into a skin scent and staying power is good but could be better. The dry down is essentially woodsy and can smell musky after a while; it blends well with the skin's natural oils. The spicy stage with cardamom and cinnamon is so yummy and rich that you feel like reapplying the perfume just to relive it. I could see it being worn both by men and women.
It is not currently available in the US but maybe if you petition the Four Seasons they might decide to carry it or maybe they are planning to.
If you would like to be entered in the drawing please include a note in your comment. I will announce 2 winners on Wednesday evening.
Recipe for sbiten' from Wikipedia:
The basic recipe for Sbiten: 3 1/2 cups water 2 cups honey 3 cinnamon sticks 2-3 cardamom pods, seeds removed, toasted and crushed 1/3 Tsp ground ginger 1 TBS whole cloves 2 dried chili peppers (optional) 2 TBS raspberry or apricot jam Combine all ingredients in a medium saucepan and bring to a slow boil over medium heat. Whisk continuously to insure honey is well mixed. Remove from heat and allow to come to room temperature. Strain liquid through cheesecloth into an airtight container for storage and refrigerate until ready to bottle.
"Tzar's" Sbiten: ingredients: honey, sugar, red bilberry, blueberry and blackberry; sweet clover, inula, salvia, thyme, spices.
"Sbiten Boyarsky" ("Boyar" Sbiten): ingredients: honey, sugar, cranberry, blackberry; melissa, sweet clover, thyme, spices.
"Moscovsky" Sbiten: ingredients: honey, sugar, red bilberry, blueberry; melissa, sweet clover, thyme, spices.