Perfume Review: Nina (The New Version) by Nina Ricci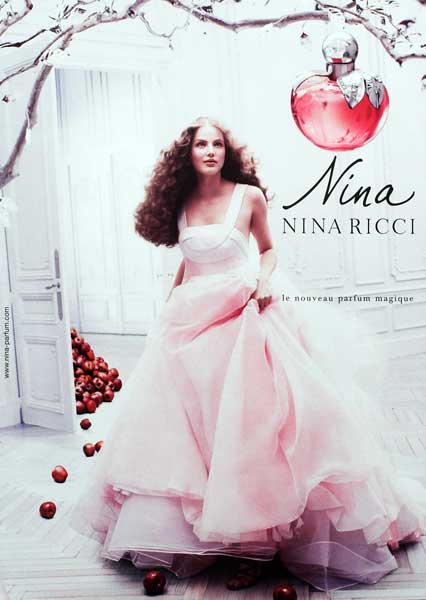 The new Nina by Nina Ricci was released in France in July 2006 and will start rolling out internationally in September. It will be introduced in the USA in a third stage, in 2007. The perfume was created by Olivier Cresp and Jacques Cavallier of Firmenich.
-- Whereby it is once more demonstrated that perfumery needs mythology otherwise it cannot operate --

Nina is an allusion to an "apple of love", as the story line goes, suggesting to "Give way to temptation..." thus conflating ancient stories or beliefs about Eve in the Garden of Eden as well as The Judgement of Paris. The latter, as you may recall or not, chose Aphrodite as being the fairest over Hera and Athena by giving her a golden apple marked with the words, "to the fairest" because the goddess of love had promised him he would be granted the most beautiful woman in the world, i.e., Helen, wife of Menelaus. As we know, in both cases, consequences were dire. In the first case, we had the fall of Eve and Adam, that is of mankind, and the archtypification of women as sinners. In the second case, we had the Trojan War. All these ideas are hinted at with a pretty figurative flacon of a red-pink apple adorned with silver leaves...
Nina is completely different from the former Nina, so please do not confuse them. The new scent is a mix of fresh, fruity, woodsy, and very, very gourmand notes. Top notes are, Calabrese Lemon and Lime Caipirinha. Middle notes are Red Toffee Apple, Vanilla Infusion, Moonflower and Peony Petals. Base notes are, Apple Tree Wood, Cotton Musk and White Cedar. According to Olivier Cresp, it is the first time that a perfume includes a caramel toffee note and probably by that he means in haute parfumerie because I would think that it's already been done in etailers' gourmand fragrances' lines. The use of this note seems to indicate that younger women, whom this perfume targets, enjoy or are encouraged to enjoy gourmand, sweet notes, and even milky ones.
The scent starts off fresh, airy, and fruity and becomes creamier making you think of mint cream for a few seconds and then turns quickly into a much sweeter, and more than creamy, I would say buttery concoction. The apple is there alright but as a candied, slightly tart apple rather than a fresh, crisp fruit and rightly so since it is red toffee apple that is hinted at. The perfume evolves into an extra creamy, vanillic gourmand and fruity scent with floral undertones. The moonflower and peony notes are popular in Asia (found in soaps) and I am reminded that the perfume was created with the Asian consumer in mind. It is reminiscent at this point of Message from Orchids by Shiseido, a smell I readily link to my trips to China where toiletries' items seem to contain similar notes. Finally, there is a sharp woodsy and musky drydown still enveloped by the ongoing toffee accord. The toffee recedes and we are left with a musky and woodsy drydown. If applied with a less than light hand the scent feels quickly heady. I find the dry down too sharp personally and a little unbalanced.
I am a little bit surprised by this take on a modern perfume for young women because I find the notes quite childish, especially for a generation that is supposed to be even more emancipated than the preceding one -- isn't it the direction we're supposed to be headed in principle at least? As it is, the gourmand aspect of the perfume is well done and I would probably taste it if it were a dessert. The base notes make me think of a stronger Noa by Cacharel.
When I was 15-16 and in high-school, I would wear Vol de Nuit and my friends likewise, perfumes like Après l'Ondée, Habanita, Shalimar... so I think it does not have to be the way of the confiserie and bonbons when you are very young.
The new Nina smells to me like the... immature (gasp, I said it) grand-daughter of Poison. The profound syrupiness reminds me of it, but it is girlier here and less complex. Of course, the immense success of Angel makes it a central reference so I would say that Nina, which is projected as a major launch by Ricci, is probably hoping to appeal to memories of childhood comfort. But in the case of Angel, the sweetness is subordinated to a more womanly seductive patchouli. In this case, young ladies, I fear you will be advertising your wares as if you were a candy store window display. But perhaps, it is more correct to assume that it is a comfort-blankie perfume rather than a seductive one.
The reason why in final analysis I would not wear it myself even when tempted to wear a very sweet perfume, as it happens sometimes, is that the base lack subtlety and is too sharp and agressive, even when applied lightly. And, gasp, I will say it, it even smells a little cheap or perhaps an even better word would be "common". The former is a no-no with me. I can wear fecal notes if their quality is good enough and as a matter of fact I do, come to think of Oropuro by Tonatto (civet), but this is a little too disturbing to my nose and it actually gives me a headache. The drydown does soften after a while but I already reached for my bottle of aspirin.
Nina is a perfume for a child-woman, someone who wants to be seductive yet remain protected, as in childhood. It makes me think of these young women who, on purpose, show part of their underwear emerging from the low waists of their jeans yet do not want to assume the sexual messages it might send to some. In this case, there is a sticky lollipop stuck in that underwear.