New Perfume & Fragrance News: Black Orchid by Tom Ford & A New Line of Unisex Fragrances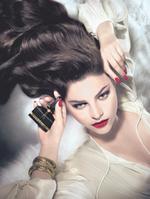 The much awaited Black Orchid by Tom Ford that will come out this fall has been unveiled for WWD. It is an opportunity for Ford to express some of his ideas about the contemporary fragrance scene. As he states,"For the last decade, I think we've launched fragrances which, like everything, have become so stripped-down, so transparent in terms of color and often in terms of scent. They often become quite watered-down…everything is tested and retested, and while you might end up with a lot of fragrances which smell good, it's not fragrance development in the old-fashioned sense. I really wanted to create old-fashioned, but in a new sense."...

"The fragrance, by Givaudan, has top notes of French jasmine, black gardenia, ylang ylang, bergamot, mandarin and effervescent citrus; a heart of Tom Ford black orchid, spicy floral orchid accords and lotus wood, and a drydown of patchouli, incense, amber, sandalwood and vanilla."
The ad wants to reconnect with the glamour of the 1950s Hollywood. Personally, both the name of the perfume and the style of the ad make me think of the movie the Blue Dahlia with Veronica Lake.
The 50-ml. eau de parfum is priced at $90, while the 100-ml. eau de parfum will retail for $135.

Tom Ford will also launch a new line of 12 unisex fragrances next spring simultaneously on March 12 2007. They will be distributed through a chain of store-in-stores and are targeting a clientele of connoisseurs. There will be the option of having them custom-blended for oneself.
Finally, to summarize his approach to fashion and fragrances in a nutshell, he concluded, "I don't believe in the customer telling you what they want. I think you tell the customer what they need."
You can now read my review of Black Orchid here.
Source: Women's Wear Daily