Perfume Review & Musings: Chypre Rouge by Serge Lutens & Sample Giveaway
Red Chypre is an unusual olfactory construction, a chypre reinterpreted to the point of nearly losing its identity as a chypre and being recognized only with hesitation, seemingly serving essentially as a symbolic crossroads for Serge Lutens' memories and impressions. The perfume here is biography and quest speaking of soul-searching and soul-finding tracing a path leading us from the present to the past or, perhaps it would be more correct to state, from the author's days as an adult to the chapter of his childhood. It also reflects his life journey from West to East. How significant are these elements in his creation of perfumes is made explicit by Lutens, "A perfume can only emanate from a memory, from something you have known earlier on, or from a cultural path."
Serge Lutens offers us clues that reinforce the mystery and secrecy of Chypre Rouge. It is a perfume that will offer its wearer the charm of strangeness; it exudes it.

The scent refers to a red oakmoss that is half-dreamed, half-remembered and that we are not sure is really present as a significant chypre ingredient...
Chypre Rouge starts with very fleeting fresh top notes suggesting classic bergamot with a hint of mint. It is so fleeting I missed it several times. Then there is an extraodinary outburst of pungent spices which instead of decreasing in intensity increases in intensity over some time. There is in it a very characteristic savory spice note pointing its head conjuring up images of Chinese cooking as well as of Arabian spice stores (Izrael in Paris in particular) and that I identify as Chinese licorice. It smells literally of an Oriental all-spice.There are sharp spices counterbalanced by soft spices essentially to my nose, sharp pepper and nutmeg notes rounded off by the sweetness of coriander and the softness of mace. Mace dominates and explains for me, in part, the red in the name of the perfume. The sharpness is accentuated by an animalic honey. Yet it soon also softly unfolds. Pecans and caramel surface. A balsamic note is perceptible but not very strong. Underneath the fireworks of dry dark spices there is the syrupy softness of a berry syrup. It is soft but not cloying.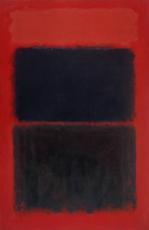 To me, the spicy stage refers obviously to Marrakesh and to Lutens' adult life in Morocco. As the perfume unfolds further a new olfactory ambiance emerges. The scent is now more Western and it smells of slightly spicy redcurrants and blackberries topping a layer of sweet, burnt caramelized pecans. Beeswax emerges. This slightly tart fruity stage to me suggests by contrast, the sweetness and gourmandise of childhood. The perfume has become soft and tender and brings about soothing impressions.
We know that Lutens had a catastrophic childhood as he himself stresses and so this indicates to me a sense of reconciliation with his past. The dry down evokes a light musky berry trail in the vein of Mûre et Musc compositions.
Chypre Rouge, which is both a spicy and gourmand scent like Arabie (created in 2000) is a more mature and sophisticated perfume than the latter, in my opinion. It is also more difficult to like immediately because of its initial uncompromising dryness. The perfume is less immediately pleasing at first but also more unique. Some people might be taken aback initially by the savory spices box effect because the spices seem to present the quality of being edible rather than just fragrant. I would say that despite its syrupy softness it is less sweet and more subtle than Arabie. The strangeness that I point out in Chypre Rouge is not at all unsettling or if it unsettles it also signals a happy resolution with its soft second dominant accord. The perfume-wearer senses that Lutens has come to port and that peace has conquered. "Softness and depth, secret in scents where, laying our cheeks we can only dream." The perfume, although recalling the softness of Douce Amère, reveals a softness that has more depth and more complexity.
It is quite an addictive scent as the ensemble of sensations it offers are rather unique. It retains some characteristics of a chypre thanks to the tartness of the berries that project the characterisitc aura of high pitched notes you find in a chypre, but this aura does not project very far and remains close to the skin. I would say that it is a spicy, gourmand, and soft chypre. For its cultural gourmand references, I would be tempted to call it a fusion perfume if you will, a term not usually used to refer to perfumes but to cuisine. I prefer it to the habitual characterization of "Oriental" because it does not make a classic use of exotic ingredients but rather uses them to allude to two separate worlds.
The story behind the scent remains intriguing.The fragrance operates for me like a symbolic bridge constructed over time and space. It is replete with half-drawn symbols. The fragrance smells to my nose of two dominant hues, black and purplish red. It is both a perfume of darkness, of intensity, a quality sought out by Lutens of his own admittance, and one of limpidity and calm, a light red suffused with the possibility of purity and transparency. The opacity of the red moss originally reflecting the uncommunicable suffering of a child has now been able to transsubstantiate itself into the transparent quality of a perfume and the clean water of limpid memories in other words, into self-expression and acceptance.
Having read about Serge Lutens' life, it then seems that the perfume transfigures profound symbolical colors and shades encountered by Lutens in his experience and, perhaps, also stands as an unconscious search for a decoding of their meaning.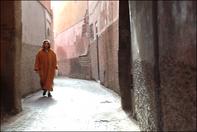 Serge Lutens now lives in Marrakesh, also called the Red City -- called Al Medina al Hamra in Arabic due to the beautiful hues of ochre, red, coral, deep pink etc. that cover its architecture. Chypre Rouge's imagined world, that of Lutens -- or is it more mine? -- contains the red walls of the city and the redness of spices found at the souk. The darkness of the perfume punctured with clarity is perhaps, I like to imagine, like those alleys in the casbah of Marrakesh that seem to lose themselves in the intricacies of the medina, half hidden in the shadows of the day, only cut through, at times, soft, at other times, piercing rays of light passing through the half-transparent dark textiles or lattices obscuring the sky above narrow passage ways. These alleys are like dark veins through which life pulsates, a bit shadowy and vague, yet offering a sense of directionality, a path leading one's steps in the direction of a home. They, probably more than any other alleys in the world for Serge Lutens are capable of suggesting the steps to be traced to enter one's abode as well as the sense of loss and the experience of abandonment overcome. For the stroller full of strangeness like Lutens these intimate streets having taken him away from his country of birth lead him after a detour back to his past, to the smells of childhood and the nostalgia for softness and gentleness. The artist is known to sashay hours on end in the medina seeking...happiness; I really meant to write, new smells.
In the story appended to the perfume, Lutens tells us about a red moss that left a marked impression on him as a child. Red Chypre, the red moss, the red walls of the city, the red of berries, the red of mace and nutmeg found in the perfume, the bloody battle of adults finding a protective echo in the fortress of the casbah, the bleeding heart of a suffering child finding its expression and reflection in a red moss, the mystery of the blackness of his mother's dress, of her jet beads on her wedding day and the obscurity of alleys covered with black textiles, the vivid ochre of the walls and the darkness of the alleys. Lutens' fascination for black and red reappears in his color palette as a makeup artist.
What Chypre Rouge reveals is a marked contrast between two atmospheres, two places, two different periods of the author's life and a system of correspondences between the two. It also fulfills in part an aesthetic program that is close to its author's heart, namely that a perfume should be able to be a commentary on civilizations. Lutens once stated, "I would love to tell the Arabian history through perfume creations. I think women are now mature enough for another type of perfumery -- one that can be linked to civilisations."(rather than self?)
In this sense, Chypre Rouge is mid-course towards attaining that goal, being both a biographical and cultural bridge set between the civilizations of the East and the West thus closely following Lutens' own biographical itinerary from France to Morocco, with perhaps a hint of the Northern American aromatic world where his son, Antoine, lives. It is a perfume of destiny, of the past and the present, of a life that has come full circle.
You can read two very different great reviews of Chypre Rouge by March and Patty on Peppermint's Patty.
Please enter a note in your comments if you would like to be included in a drawing for a sample of Chypre Rouge. I will announce the winner on Friday evening.