Fragrance of the Moment: Atelier d'Artiste by Nez à Nez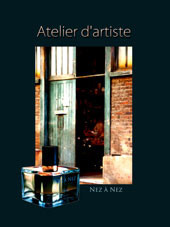 I am sampling Atelier d'Artiste (Artist's Studio) by Nez à Nez. I received their collection of 10 perfumes and tested them over the weekend. Atelier is my favorite from the line so far. I find it to be the most complex and dark; it conjures up for me images of dark wood, warm, aged alcohols (rhum and cognac) drank at a party at a smoky artist's studio, the aroma of a dark grape whose color is similar to that of a thick balsamic vinegar from Modena - I imagine more precisely dark Moldovan wine brought as a present and left over from a previous party - wafting through the smoke of the studio, and finally, incense. The perfume evokes to me a working-hard-and-playing-hard atmosphere. I will review it soon more in detail and present the other scents as well.
What fragrance are you wearing today?

Image is from Nez à Nez.