New Perfume & Fragrant Reading: Sarbez by Sarbez & SARBEZ The Renaissance of a Fragrance
How a niche perfume was created and the story of its downfall and renaissance -- Peggy Dean decided one day to create a fragrance and along the way wrote a book describing her experience including the many road-blocks encountered on her path.
Sarbez in eau de parfum and parfum was launched last spring. It is described as a "...a creation of bergamot, lavender and nuances of tropical modern twists. The body of the fragrance consists of rich notes of ylang-ylang and jasmine with hints of fresh floral rose. The lasting scent is a resinous accord of sweet vanilla and Tonka beans surrounded by precious woods of patchouli..."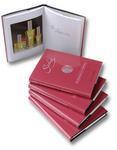 The book, "SARBEZ The Renaissance Of A Fragrance is a light-hearted story of a fragrance and the dedication and struggle of its caretaker to bring it to the marketplace. The beginning of the story takes the reader through a brief exposé of the fragrance industry then launches into a wild ride describing the journey of the fragrance. You will see how the original TREASURE PERFUME was an early success and why it had to retreat, only to re-emerge as SARBEZ and how it would not yield to the many road-blocks in its path. This book is a must read for anyone with the entrepreneurial spirit."
The perfume retails from $20 to $85. The price for the book is $20. Sarbez also proposes an introductory offer for $25 including the book and a 12 ml flacon. More information can be found on Sarbez Perfume.
Sources: The Sacramento Bee, Sarbez Perfume