Perfume Review & Musings: Musc Samarkand by Les Néréides
When one looks for a musk scent, and more than with any other scents, one hopes to find that sexy musk that will prove to be the perfect marriage of seduction and intimacy. When one searches high and low for a lovely powdery scent (like I used to), one hopes to find a scent evocative of something rare and precious, a concoction that will transport one through the sense of smell to a refined ancient boudoir, a lady's powder room in the 18th century. Both Musk and powder share this in common that they can powerfully call to imagination the skin of the perfume wearer through a series of olfactory, historical, and cultural associations.
The latest offering by Les Néréides, Musc Samarkand, is a powdery musk scent that would have been even more evocative in my opinion had it seized upon an imagery such as that of "Madame de Pompadour à sa toilette" painted by François Boucher. I must say also that I have been several times to Samarkand and I have trouble connecting the perfume to that city. We need more spices to succeed in doing that. Of course, the word "Samarkand" is mainly used here as an Orientalist motif and probably in reference to the vegetal musk found there called "sumbul" which I believe is the same thing as or related to spikenard. On the other hand, had it been called Musc à la Pompadour or Boudoir et Musc, I would have accepted those hints without any hesitation...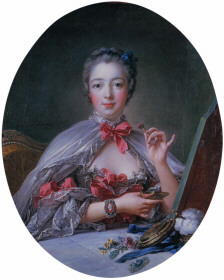 Musc Samarcande will not break any record of originality, nor does it strive to, but it is a yummy and very discrete musk scent. The opening is a cool, almost glacé powder accord, followed by the musk which is very natural and animalic in the sense that it smells slightly urine-y. Musc Samarcande could appear to some to be a whiter (due to the powder) and gentler version of Musc Ravageur. The musk is as dirty, only much toned down. There is also a slight sweet Coca-Cola accord, as in Musc Ravageur. It is similarly that same dirty, very natural-smelling musk accord you find in Musk by Alyssa Ashley, which itself, in its turn, also reminds me of Musc Ravageur. It further evokes to me White Musk by The Body Shop. What musk does it not evoke to me you will ask? Wild Musk by Coty and Kiehl's. It is less clean than Serge Lutens Musc Blanc. The labdanum and the woods give it a little bit of rugosity underneath all that soft powderiness. I smell some patchouli in it too, giving a little earthy undertone to the drydown. Having said that, this scent will not shock anyone because it is a very light composition. It is also perfect for summer.
I turned to the male gender in the person of my husband to ask for his opinion as to its impact; he concurs, it's very light. (I just wanted to check to make sure no gender-based musk anosmia was preventing me from smelling the full impact of the musk in Samarcande). This perfume is thus a safe practical solution for people who love musk but refrain from wearing musk scents in certain social contexts or at the office; this one, I promise, will not make you appear like you want to date all your colleagues. I find it is so lightly scented that it is even more discrete than the scent of soap lingering on your skin after a bath or a shower.

Notes are, white flowers, vanilla, powdery notes, white musk, labdanum, moss, soft woods
The perfume is sold at Luckyscent, $60 for 100 ml. It is currently being back ordered.
You can read my previous reviews of Patchouli Antique, Impérial Opoponax, and Oriental Lumpur by Les Néréides here.