Beauty Notes & Shopping Tips: Think About Bringing Solid Moisturizers on the Airplane
If you're desperate about the new ban on liquids that is being enforced in nearly all airports, except in Canada, and wonder how you are going to survive without any moisturizer (and an abundant supply of water) during your flight, think about purchasing solid moisturizers or lotion bars. These just need to be rubbed onto the skin and will melt with your body heat.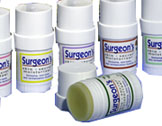 This moisturizer was initially used by surgeons to heal the skin after surgery. They come in twist-up stick containers. The try-me size costs $4.95.
• Queen Helene's 100% Cocoa Butter Stick or any other 100% cocoa butter sticks.

• Lotion Bar Spice n' Ice by Woodsprite.
Ingredients are: Organic Virgin Cocoa Butter, Organic Shea Butter,
Beeswax, Avocado Oil, Natural Vitamin E & Select Essential Oils of Ginger, Clove, Peppermint, Juniper, Rosemary and Cassia. It costs $16. Just keep it in a cool place before take off so that it does not melt too soon, as they seem to be worried about this possibility. A little freeze pack might help...

• Solid Lotion Bars by Susan's Soaps & More
As the advertisement reads, "What's a lotion bar? It's a solid moisturizer you can carry with you and rub on hands, elbows or wherever your skin is dry and itchy. With these lotion bars you don't have to worry about bottles or tubes leaking in your purse. You can even tuck it into your pocket. With lotion bars from Susan's Soaps you don't have to worry about chemicals or synthetic substances because of course they are all natural. All you have to worry about is which scent you like the best."
Ingredients are, Avocado oil, shea butter, cocoa butter, beeswax, tocophyerols (Vit E) and essential oils for scent. Net wt. 1 oz.They retail for $5 each or 3 for $14. They are very nicely molded and tucked into cute little tin boxes that are easy to carry.
• What about trying Sweet Cheeks Body Balm, another solid moisturizer? They are meant for baby's cheeks but could work as well on yours, including your hands too.
• Country Bunny has an unscented lotion bar for $7 (easier to use on the face) and many more that are scented. Be sure to use Shannon of A Girl's Gotta Spa's representative number: 7227. Her kids need their mom to stay at home!
More options here, including Sadie's lotion bars:

• Solid Lotion Bars on Amazon.com
If you want to get more tips for planning for travel these days, check The Beauty Addict.