Perfume Review & Musings & Sample Giveaway: Live Luxe by Jennifer Lopez
The latest fragrance by Jennifer Lopez, Live Luxe, was created by Claudette Belnavis of Takasago. The fragrance is dedicated to J-Lo's love of dancing. Notes are among others, pear, peach, amethyst freesia, muguet petals, diamond musk, and soft amber.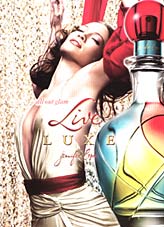 Live Luxe starts with a sharp outburst of slightly tart fruits. It smells of mandarine, perhaps green apple, and overall of the concentrated and juicy smell of a Del Monte fruit salad. Underneath the frutiness, a creamy undertone already indicates the direction in which the perfume will evolve later.
As the perfume unfolds a slightly clean ozonic smell envelops the fruits balancing out the creaminess to prevent it from becoming too cloying. (Now that I have read that there is an electric citrus note, that might be it; there is something in the air). Little by little, the fruit medley becomes less indistinct and a juicy pear appears on a peachy background...
I like the fact that the pear note is realistic rather than candified and I can almost see a half-eaten yellow pear dripping with juice materialize before my eyes. The creaminess gets accentuated suggesting more and more a milky caramel. The drydown with diamond musk and amber is sheer, fruity, and caramel-y in a first stage. In a later stage it becomes lighter, both more floral and ozonic with the lily note being quite prominent on my skin while the creaminess remains underneath. I prefer that last part the best. Live Luxe evolves into a rather sexy sweet and comforting skin scent. Staying power is reasonably good but not exceptional. I can see how some people might find it addictive as I am starting to fall a little under its spell.
The upcoming J-Lo perfume ostensibly belongs to a lineage of fragrances centered on a butterscotch accord mixed with fruits destined to young women between 15 to 24 years old. To variable degrees we have detected that accord in several releases this year: Britney spears Curious in Control, the new Nina by Nina Ricci, Princess by Vera Wang, and now in three upcoming ones, J-Lo Live luxe, Hilary Duff With Love, and Hilfiger Tommy Girl 10 (the latter one is the best one so far, in my opinion, in that series of feminine milky fragrances because the butterscotch note in it is light and is more interestingly paired up with other less predictable notes. I have not smelled With Love yet).
Fans of J-Lo won't have much difficulty wearing the perfume and preferring it over the others in the same category. It is better than the new Nina by Ricci and Curious in Control as it is slightly richer and rounder. I think that I like it less than Love at First Glow about which my husband incidentally remarked "It's surprisingly good for a celebrity scent". Lopez's scents in general are good commercial scents, better than many others on the market.
Detailed list of notes: Top Notes [are] Juicy Pear, Exotic Melon, Apple Twist and Electric Citrus. Heart Notes [are] Sun Sweetened Honeysuckle, Amethyst Freesia, and Muguet Petals. Drydown [includes] Skin Musk, Creamy Vanilla, Soft Amber and Sandalwood.
Please leave a note in the comments if you would like to be entered in the drawing for a sample of Live Luxe by Jennifer Lopez.