Perfume Review & Musings: With Love by Hilary Duff & Some Thoughts On Its Similarities With Betsey Johnson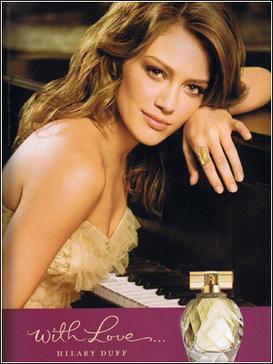 The new perfume by teen star Hilary Duff, With Love, continues the very popular, some would say, unimaginative, trend of fruity floral fragrances given a creamy, buttersccotch-y twist. The genre was made popular by Britney Spears and is primarily destined to please a younger set of women (15-24).
In this case, fine wood notes make it a more sophisticated type of fragrance susceptible to appeal to a more mature audience looking for a sensual playful, yet elegant perfume.

The perfume was created by Stephen Nilsen and Rodriguez Flores-Roux of Quest. It is a luscious gourmand fragrance with delicious fruity notes and seductive woods: sandalwood, cedar, and rarer "textured Cocobolo woods" undertones. I absolutely love the woods in this perfume; they are very finely textured.
Notes are, among others, Mangosteen fruit, spices, Mangosteen blossom, Cocobolo wood, amber milk, and amber musk. I also detect a boozy note which turns out to be Champagne according to one source. There is also a rich sandalwood, cedar, and coconut milk. The Mangosteen smells more like candied pineaple than Mangosteen only approximating the delicate and subtle frutiness of the Mangosteens of my childhood...
The perfume starts with the sparkling fruity notes of Mangosteen and Champagne then becomes very langourous and creamy. It soon smells like buttersctoch topping crystallized pineapple. Then the milky accord changes its nuances from butterscotch to coconut milk. A lush tropical bouquet of flowers makes its nuances felt. The sumptuousness and piquancy of sandalwood and Cocobolo wood make their entry. The base notes develop a warm Oriental accord. The very realistic and fine cedar wood becomes more prominent in the longer dry down as well as the musk and amber. The dry down is sheer and sensual with a bit of dryness thrown in to counterbalance the near-syrupiness of the scent. The perfume has achieved a successful balancing act.

The fragrance was inspired by the aroma of a candle. It does indeed smell like a perfumed candle when you do a test side by side. This may turn off some people and cheapen the image of the perfume but I overcame the bias rather quickly. The perfectionism that presided over the creation of the perfume (we are told Hilary and her entourage went though 115 mods or trials) was advertised as part of their publicity campaign and one can see how those efforts paid as they have produced a very mellow and even pillowy perfume. An analogy for me is to think of high quality fluffy goose down.

Now, I discovered that the new Betsey Johnson and With Love are kindred spirits. They smell very much alike (fruits and flowers on a mellow bed of butterscotch) but with some definite nuances.

Both are perfumes attached to an iconic woman's figure; it occurs to me that, that aspect might enter into the composition of the perfume as a secret ingredient of success and sweeten the brew depending on where your allegiance lies. For a moment I catch myself thinking that I would like, if only for one moment, to worship the aura of a celebrity just to see how this might influence my perception of a perfume. The perfume bottle would probably start to glow in the dark.

As luck would have it my ability to experience first hand the effect of celebrity upon the perception of fragrance is handicapped in both directions, for there is also no celebrity I hate so much that I would not wear her fragrance, or even hesitate to admit wearing it. If that has happened to you however, please feel free to comment.
Back to With Love by Hilary Duff. I was tempted to buy it. My hesitation illustrates the point that it might be OK to issue two similar fragrances on the market at the same time, but that it might be a bad idea to put both bottles on adjoining perfume counters for customers to test. Being within easy reach, you will probably spray from both flacons almost at the same time and end up picking on their similarities in real time. Having no personal allegiance to either said celebrities my only remaining recourse is qualified objectivity.

The similitudes were so great it enabled me to escape the temptation field of the perfume counters with a new big dilemma: which one to choose? I like them both, but I must prefer one of them because they are so smilar. Yes, but which one? Follows much hesitation.

At first they are so similar you do not think of buying both of them on the spot despite the reasonable price tags. You try to find out which one you prefer.
I might however end up getting both (although please note, I haven't made the purchases yet) because I have decided that Betsey Johnson smells incredible sprayed on clothes rather than on my own skin. There it turns into a fruit basket. On paper or on clothes it smells like a beautiful and very lasting witty fruity chypre. It is so good, I who normally don't consider wearing perfumes on clothes am motivated to consider it. With Love is such a mellow fragrance with the sensual woods being a clear and present temptation that I feel I son't see why I should resist. Price tags for both perfumes really help simplify your consumerist options too. Both perfumes have a of a bit of an addictive quality to them.

With Love retails for $35, $45, and $55 for bottles of 1 oz., 1.7 oz, and 3.3 oz respectively. There is also an eau de parfum roller-ball of 0.13 oz for $25.