Perfume Review & Musings: Zibeline by Weil (1928) // The Very Definition of a Haunting Perfume
Zibeline by Weil // Perfume Review & Musings
Zibeline (sable) was created in 1928 during the jazz and flapper era by Jacqueline Fraysse, according to one source, and Claude Fraysse, according to another one. They probably both worked on the scent. Weil used to be a house specializing in luxury fur coats when it was established at the turn of the 20th century.
Chinchilla Royal is another perfume by the same brand issued in 1927 the year of the founding of Weil Parfums by the three Weil brothers: Marcel, Alfred and Jacques. Both Chinchilla Royal and Zibeline were innovative perfumes created as functional scents destined to be worn directly applied onto furs to cover the slightly musty smell that emanated from sable pelts. As an advertisement read in the 1930s, Zibeline was meant to be "Strictly an odor for furs." To reinforce the point, both perfumes were advertised as fragrances that had been chemically treated to scent the elegant woman's furs without damaging them...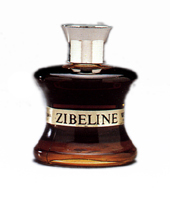 According to my preliminary research, Zibeline was introduced in the United States in 1933 and it was still being produced in 1997. Before that, in 1986, we hear of a plan for a reformulation of Zibeline. We learn that in the 1980s, Zibeline was actually the alcohol-based version of Secret de Vénus, also by Weil and created in 1936 - that is to say after Zibeline.
To make things even more crystal clear, in the 1970s, Zibeline and Secret de Vénus would be advertised together as one entity called "Secret de Vénus-Zibeline Perfume Oil".
It would be interesting to find out more about the marketing logic behind these amalgamations, but this will be for another time and place. Currently, the perfume to my knowledge is discontinued but might have ressuscitated under the name Secret de Vénus, for all I know. Very recently, Roja Dove revealed that he would carry Zibeline in his Haute Parfumerie at Harrods along with other hard-to-find fragrances deemed to be historical trend-setters. He did not mention Secret de Vénus, although it is more widely available than Zibeline as a vintage collectible.
The version I have is an alcohol-based parfum de toilette (another term for an eau de parfum), just called Zibeline. According to Katie from Scentzilla, my version would be an older jus and by the look of it, I would think the bottle is from the 1970s-80s.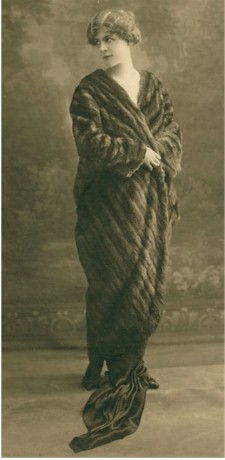 The word that for me best describes Zibeline is "haunting". It is a perfume of infinite charm that bespeaks of an era long gone by and which with time has become exotic rather than old-fashioned. It feels to me a little as if a time-machine would have brought to your door a sophisticated lady from the flapper era who would be very much alive and whose conversation one would truly enjoy despite obvious profound differences of mentalities. She would smell different, antique, yet very up to date at the same time. The perfume thus creates a stylish aura, but at the same time feels distant, like a faint echo of things past.
(A Weil zibeline coat ca. 1910. Please note the siren-like silhouette created by the bottom of the coat)
Zibeline in the version I have reveals cultural perfume touches of the 1920s as well as of the 1950s. Royal Secret by Germaine Monteil (1958) which I find is very similar to Zibeline and still widely available smells like a more fiery and agressive version of it. The perfume thus has that tendency to the sharpness and soapiness of a 1950s fragrance, as well as to the somewhat heavier languorous animalic atmosphere of a perfume from the 1920s - think Habanita and Chanel no 5 - including a popular note of that time which is not officially described but that to my nose smells like Russian leather or betula alba extract.
It is a perfume with a rich past. It is also a perfume which borders on the overtly sexual; but this naturalness while very much present is contained as if kept in check in the folds of a very civilized, ample and urbane fur coat. This idea is conveyed by a raw civet note with naturalistic fishy undertones. It is also a perfume that has a dreamy quality about it: is calm and contemplative. This latter mood is suggested by the orris, the sandalwood and the incense. The perfume is officially classified as a woody aldehydic floral - and it has the feel of an oriental.
The composition starts with a fresh and slightly syrupy-sweet herbaceous accord, a little reminiscent of green Chartreuse liqueur; the tarragon is quite prominent to my nose. Although as I already said Russian leather is not mentioned, it smells of Russian leather skins and of what I think might be betula alba extract - the typical scent that was used in Russia in the old regime to perfume leather-bound books as well as boots and which is used in Russian leather scents. If it is not that, it is something closely associated with the classical Russian leather accord.
The fragrance lets the finesse of the orris prevail as if a veil of pale mauve mousseline were caressing the scent. The aldehydes come into play rather forcefully to provide amplitude to the perfume. They are on the sharp side, but well-rounded. These recede after a while letting the feminine floral heart composed of "Orient rose", jasmine, lily of the valley, ylang-ylang, orris, and gardenia develop evoking the image of a bouquet of flowers wrapped with orris mousseline. The woods play they lower-pitched notes underneath this layer of the composition. The orris is cool, revealing metallic nuances, yet is warmed up by the wooden embers in the base notes.
Zibeline then becomes more powdery and the softness of that accord is balanced out by the more vivid impression offered by the aldehydes, as well as the stimulating piquancy of sandalwood. The civet becomes more distincly perceptible realistically evoking feminine sexuality with the help of musk and sexual ylang-ylang. The fishy undertones intensify, making one think of oysters and of a pungent odor di femina smell. Then, a very unexpected accord evolves evoking powdered milk, later a little butterscotch, and still later, plain good old butter. The dry down is animalic, woody and sweet, due to the honey - and powdery.
I am a little puzzled at first by the combined siren-like and motherly references in the scent, at one point sexual, the next nurturing. These notes do not feel babyish but seem to take the point of view of the mother.
In the end, I reflect that these notes which fade into each others effortlessly probably contribute to the deep charm of that fragrance as they offer the complete representation of a woman both natural and sophisticated, seductive and nurturing. It is a perfume that balances different, contradictory aspects of femininity, as seen by society, and perhaps for this very reason helps its wearer symbolically integrate those tensions.
One can understand even better perhaps the attraction it may exercise on men. "Secret of Venus-Zibeline Perfume Oil, The World's Most Famous Perfume Oil - In the haunting fragrance that speaks a language a man understands" as read in an advertisement in the 1970s. It explains to me why the word "haunting" came to mind in reference to a sense of the familiar and the distant, all at once. It is the distance and familiarity that connects generations of mothers and daughters and sons, the distance and familarity that connects men and women. The sense of both absence and presence, that is our experience of life.
Top notes are aldehydes, bergamot, lemon, coriander, estragon. Heart notes are Orient rose, jasmine, lily of the valley, ylang-ylang, orris, gardenia. Base notes are vetiver, civet, sandal, amber, musk, honey, Tonka.
Photo of Zibeline is from Scent Direct.
Feel free to consider the comments' space below as a petitioning space to call for the re-introduction of Zibeline!