Perfume Short: Mitsouko Eau de Toilette by Guerlain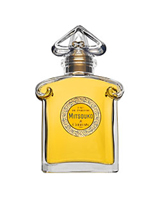 Mitsouko eau de toilette is still available but I wanted to call your attention to the fact that it does not really exist anymore. What is left is the shell; the bottle reproduces the lovely inverted heart design found on the perfume bottle, the label says Guerlain Mitsouko, but the perfume itself has gone wrong, very wrong...
It used to be a rich, complex, and warm scent even in the lighter edt version. The transformation that has taken place is horrific. A 15 year period or so separates me from my last bottle of Mitsouko edt so the shock was genuine. I cannot say enough bad things about the new version. It smells horribly cheap and the analogy to bug spray is entirely appropriate in this case. Whatever happened to quality control at Guerlain? I simply cannot believe how bad this reformulation smells. I am even wondering if Guerlain might be dumping a sub-par version on the US market. There is nothing I can say to save this scent. It does not even smell like Mitsouko. Now I am hoping with a quivering heart that the edp and the parfum have not been disfigured like the edt. How sad.