12 Best New Festive Perfume Bottles & Scents for the Holidays // Christmas Gift Guide {Fragrance List} {Perfume Reviews}
12 Best New Festive Perfume Bottles & Scents for the Holidays // Christmas Gift Guide
Esteban Tonka Noir
The French, germanopratin*, niche brand is issuing a black beauty of a bottle named Tonka Noir. The jus it contains, Tonka (2006), signed by perfumer Fabrice Pellegrin, remains the same. If you love the honeyed tones of sweetly scented Amsterdamer tobacco swirls, this is your chance to waft of them without fear of spoiling your very effective lungs and those of others.
* Pertaining to, or of the Saint-Germain-des-Prés neighborhood in Paris.
120€/100 ml limited edition...
Mugler Angel Etoile des Rêves Eau de Parfum for the Night
The bottle mimicks the blue planet, except it has now also been made to look like a constellation of stars too. The flacon sits prettily in a slanted fashion on your table-top, while the atomizer and new personaity allude to "the boudoir tradition"; it is fit for the flirtiest of perfume lovers. The fragrance is different now too, or to be more exact, it is a close variation on the original Angel, only made more sensual, "silken" and "intimate" for bedtime-wear. It aims to offer a new balance of emotions by slightly tweaking a famous recipe, in part by relying on "cocooning", enveloping white musks.
$135/ 3.4 fl. Oz.

Cartier La Panthère Edition Soir Eau de Parfum
For the holidays, Cartier have launched a limited-edition composition of La Panthère (2014) called La Panthère Edition Soir, which is meant to offer more "euphoria". Perfumer Mathilde Laurent has inserted a "sparkling gardenia" to enliven the powdery facet of the scent. The flacon color-codes the new, subtle olfactory sensations as a chic interplay between black and gold.
90,50€ for 50 ml and 112, 50€ for 100 ml
Marc Jacobs One Eight K Edition
Decadence, in a limited "18 K" edition, out for the holiday season. The scent by Annie Buzantian remains the same, while the outer packaging, which mimicks an evening clutch turns shiny golden instead of emerald green. The jus is a standout woody-floral for women, who are looking for both femininity and balance.
Hermès Terre d'Hermès Le Flacon H Parfum
To combine a sense of festive play with a sense of celebration, Hermès have issued a series of 3 different flacons of the extrait version of Terre d'Hermès (2009). You cannot choose which one you will get - and will simply have to bow to Fate - or Kismet. While initially made for men, it is actually very wearable by women too. A beautiful composition certainly knows no gender boundaries in our book.
Lalique Le Parfum Gift Set with a Scented Necklace
A composition which is one of the unsung heroes of perfumery, Lalique Le Parfum was composed by perfumer Dominique Ropion. it is a jasminey floriental with an unusual aromatic slant, thanks to the added pinch of bay leaves - a traditional note of Bay Rum and of a school of afteshaves for men. To our nose, it smells of Provençal thyme too. Perhaps, it is traceable to Germain Cellier's La Fuite des Heures by Balenciaga (1949), which is based on a jasmine and thyme accord. Warm, alluring - and worn only by persons in the know. It's a bit of a secret hand-shake perfume, like some niche fragrances can be. Speaks volumes about your taste and your research (we need to line up those).
Price : 120€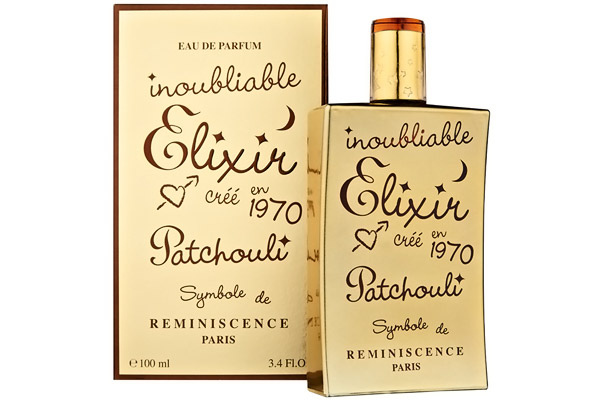 Reminiscence Patchouli Elixir
The legendary Patchouli by Reminiscence (1970) has been double-dosed and made more opulent and intense in Patchouli Elixir. We rediscovered it by asking what wonderful patchouli trail was that ? A woman then turned towards us and revealed the origin of the sillage. Makes you stop in your tracks.
Price : 102€
Hello Kitty Premium
It's likely you will think a Hello Kitty fragrance is more daft than divine. But take in a closer inhale and you will have to acknowledge that the composition is a very serious one and an excellent one too. For kids, or adults who like to wear something undertstated, but definitely well made.
Price : 28, 90€ for 40 ml.
Annick Goutal Eau d'Hadrien PURSE SPRAY GIFT SET
This versatile, elegant and unisex hesperidic composition (1982) inspired by Italian hedonism and Imperial Rome is currently available in a travel, about-town purse spray format with 2 X 8 ml refills.
Price: 55€
Sisley Soir de Lune Limited Edition
The midnight-blue flacon by Polish sculptor Bronislaw Krzysztof is a special edition from 2015, which is still available in 2016 on the French brand's website. Soir de Lune is simply one of the best chypres you can hope to wear. It is completely enchanting. We know, because each time we happen on its sillage, we admire it anew. Even if you are not into perfume bottles that much, it makes you think how truly-lovable fragrances deserve to be worshipped, with each new bottle.
Price : 212€

Burberry My Burberry Black Parfum
The bottle has that heft about it that bespeaks of good quality. The jus it contains is one of the top launches of 2016. It has the potential to be adopted as a signature scent thanks to its set of qualities examined more in detail in our review of it. Best of all, it offers a permanent Christmas-y feel.

Nina Ricci L'Air du Temps Eau Sublime
The now golden flacon decorated with the iconic couple of doves is a limited-edition with a new interpretation of the classic L'Air du Temps. It is about the art of making a memorable perfume create new memories in 2016. If you love it, chances are, it will stick around. You can read our review of it.