Koto Parfums Hello Kitty (2008): Hello Me, You, Everyone {Perfume Review & Musings}
On April 26th, 2008
Koto Parfums
, a French company which specializes in developing kids' scents based on popular movie franchises,
launched two new perfumes
for infants and toddlers on the one hand and little girls on the other hand called respectively Hello Kitty Baby (without alcohol) and
Hello Kitty
. The fragrances were created by
Drom Fragrances
who are also responsible for the Escada, Guess, Eden Park, Jacomo, and Olivier Strelli brands. It comes a year after a Hello Kitty scent issued by mother company Sanrio called Momoberry and created by Tristan Brando (cf. cultish Monyette Paris). There was also apparently an "original" Hello Kitty perfume before that.
As one may or may not be fully aware, the Japanese kitten with a cute plump bow on the side of its baby-head-sized cranium is wildly, nay, fantastically popular with large segments of the world population. Hello-Kittified human beings are the proud owners of not only cuddly Hello Kitties, but Hello-Kitty TVs, popcorn machines, toasters, emblazoned toasts, plush toilet seat covers, faucets, sex toys, and more, many more. There are even a Hello-Kitty plane, a Hello-Kitty restaurant in Taiwan. There must be a Hello Kitty brothel where it is legal.
The demographics of enraptured Hello Kitty fans are surprising to consider at first since Hello Kitty's near-universal appeal resists the normal age limitation envisioned, of say, 9 years old, and is still considered to be a thrill by older kids, pre-teens, teens, and yes, adults nearing mid-life crisis. Celebrities love her as they wish to be or can pretend to be as iconic as she is.
In fact, the advances of Hello Kitty since 1974, the year it was created by Sanrio, seem unstoppable, jumping from one generation to the next as young mothers in their twenties and thirties are only too happy to initiate their daughters, and they themselves never seem to be able to shake off the addiction. Nor are they trying to. Indeed, Hello Kitty appears to elicit the love that a drug addict lavishes on his or her cocaine and similar in this regard to the sub-culture surrounding a particular substance abuse, the phenomenon may appear slightly opaque to outsiders. Another point of contact in this analogy of possible terminal depravation is that, as business authors Ken Belson and Brian Bremmer have called attention to in their book
Hello Kitty: The Remarkable Story of Sanrio and the Billion Dollar Feline Phenomenon
, the Hello Kitty franchise makes, admittedly, the profits of a (clean) drug cartel. Deaths by Hello-Kitty overdose however have not been documented to our knowledge, although fits of intolerance have been reported...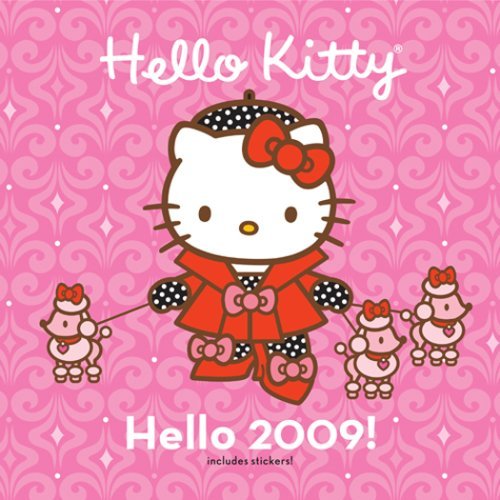 Nevertheless obviously some people can escape the tsunami of Kitties and the call of formidable cuteness since until now I had not succumbed at all and was in fact only very abstractly aware of the pulsating life of the Hello-Kitty franchise. But hovering over a stand of children's perfumes during Christmas shopping season in a desperate mad dash to find something that might please a budding coquette, one of my nieces, while not hurting her tender epidermis (a fundamental selling point of this type of products), I seized a Hello Kitty perfume and... well, a few moments of smelling later, I had to admit that as is customary to say on these occasions for a perfume reviewer taken unaware, it was surprisingly good. It is very good actually.
The notes may sound more like they are meant for pre-schoolers but really they manage to transcend themselves. Top notes are: a pretty caramel apple, a few slices of green apple; heart notes: cherry blossom, velvety jasmine petals, and two or thee balls of coco; base notes: crunchy pralines, a dash of musk powder, a trace of vanilla and a lot of rock candy.
Hello Kitty is from an adult's standpoint, suavissimo. It is a very soft perfume without being cuddly and conjuring up Linus' blanket or a row of teddy bears with glazed button eyes. Although it may appear through its packaging in particular to primarily target young children, it actually is also officially targeting adult women. And this is perceptible in the scent itself. The feat is quite remarkable as it manages to be age-appropriate in both cases. To me, this is a much more subtle and convincing version - with its equidistant-in-age character - mother-and-child scent than the Bulgari Maman et Petits or the more recent L'Occitane Eau Maman et Bébé. Like the Hello-Kitty universe in general the perfume contains in it more universal and accentuated, distinctive traits than those of childhood that make it a potential candidate for adults who like those features. Hello Kitty the toy and image is not just childish, it is archetypically cute, spare and abstract and can appeal to sophisticates thanks to its style positioning, its signature effect, its bold albeit understated message.
The CEO of Sanrio explains that in his view the reason why Hello Kitty is so popular is simple: she has no mouth folks! And therefore Hello Kitty can become the support of just about anyone's desires, dreams, projections, expressions, without the person perceiving any potential signs of contradiction or criticism or say, noise.
I had to try to do some visual meditation with the Hello Kitty face as support and I have to say, this is clearly a restful experience. It is your pop culture moment of being far from the madding crowd. The eternal version of the non-judgmental, innocent, very young non-talking baby face. Hello Kitty is the ultimate blank face, clean slate, white sheet of paper without the angst, TV screen on which one can project anything, except boredom apparently. At the same time that Hello Kitty has not mouth, she seems to smile for all eternity with her upwardly curvy chin line that looks like it was inspired by Mr. Smile's smile. In the age of silent communication via emoticons, she could only touch millions. Her precursors and followers are both the monkey that speaks no evil and the pet robot dog that one can feed.
Like the Hello Kitty heroine, the eponymous perfume is characteristic yet neutral and versatile. It can be offered to children but also to adults looking for a subtle, undefinable perfume signature. Undefinable becomes a positive quality here, one that is as welcoming and malleable and full of potential as the face of Hello Kitty. Some perfume wearers want personality apparent on their skins - the scent is therefore big and full of complicated features itself - others prefer it under the waterline of the perfume - they want a great skin scent that offers a metamorphic quality. The latter is like a sublime nude and nearly invisible shimmering makeup for the skin with a melting quality. The first type of perfume is more like a great hat and an aesthetic landmark.
The Hello Kitty perfume is in this manner not just tender and evocative of a soft nursery atmosphere, of a riff on snowy blankets, milk bottles, talcum powder, irisy baby skin, caramel burps and traces of Bebe Cadum laundry detergent on woolly onesies knitted by a patient grandma with arthritis, but it is also simply and to the extreme very soft, well-balanced, like-your-skin-but-better. The scent floats above the skin and has a very subtle aroma, so it is that but at the same time, this identity as a perfume recedes leaving room for a very simple sublimated scent of skin with its delicate notes of almondy tonka bean brushed with sugar and baby musk.
The initial first impression reminded me of a perfume that was worn by a childhood friend of mine in her adult life. She did not like perfumey perfumes and only wore one extremely discreet Shiseido perfume. It was almost a non-perfume, yet there was something extremely suave and soft about it that was its distinctive mark.
The Hello Kitty eau de toilette has fruity notes of green apples and gourmand notes of caramel apple, coco balls, praline, sugar but they all soon sink into a pool of tenderness where none are too marked and all melt into a downy smile. The notes all contribute to the texture of the scent, its undefinable character. It does not smell like the caramel apples of Brandy or the obvious sugar overdose of Pink Sugar. Even the sugar accord here is more like the dream of sugar than real sugar, or perhaps like the nostalgic evocation of a glass of sugared water that would be stirred with a tinkling silver spoon and left on a bedside table in a children's room with blue turquoise wallpaper. At the same time, it all is able to morph into soft femininity and the scent of delicate flowers, of the nook of elbows and shoulders emerging from a blue tulle ball gown. Really lovely and addictive.