Jean Paul Gaultier Musical Coffrets (2008), Bijou Parfume (2009) {Fragrance News}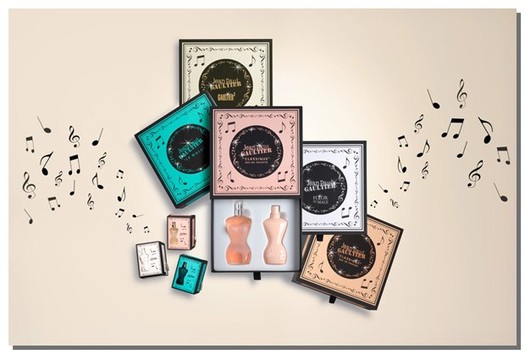 Jean Paul Gaultier
is bringing his designer's mind to perfume by offering more varied supports for it than the traditional fragrance bottle. The novelty trend, an always popular one during the holidays, will be illustrated with a charms necklace and musical boxes.
For the end of the year 2008, the brand has released a collection of
musical Christmas coffrets
containing Classique, Le Mâle, and Fleur du Mâle respectively. Classique slides open to the tune of
Love Me Tender
sung by Elvis Presley and Le Mâle and Fleur du Mâle both to that of
The Entertainer
interpreted by Scott Joplin.
"The Classique coffret, which contains a 100ml edt and a body lotion, is priced at €72. The Le Male set, comprising a 125ml edt and all-over shower gel, is €57. The Fleur du Male coffret, which also features a 125ml edt and shower gel, retails at €59."...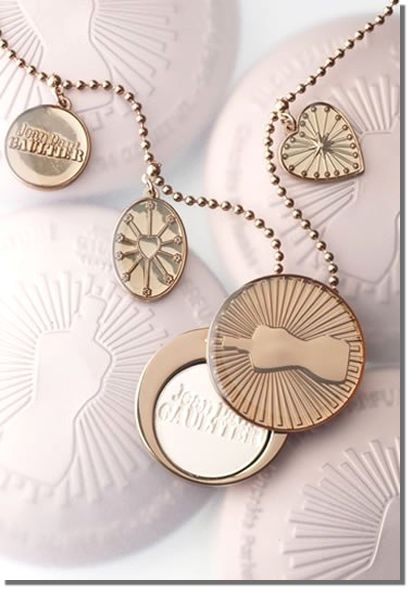 If the concrète is well-liked these days (see
shopping guides 2008
), Gaultier is offering one of its most elaborate twists with a fashionable charms necklace called
Bijou Parfumé
(Perfumed Jewelry). The design is inspired by his spring/summer 2007 fashion collection and the theme of religious Catholic medallions with saints, flaming hearts and crosses. The figure of the madonna is replaced by the famous bust of Classique.
The concrète of Classique is said to offer a light powdery texture. It will be available exclusively at Marionnaud from February 2, 2009 for 55 €.
Via
The Moodie Report
;
Au Féminin