Esteban Tonka (2006) {Perfume Short (Review)}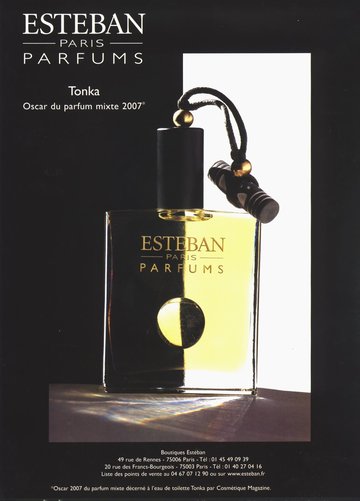 Esteban advert in Elle Déco Dec 2007
While doing research on an altogether different perfume I happened on an advert for Tonka by Esteban in their collection called Matières (Raw Materials), a rather rare occurrence in the world of niche perfume brands skimping on advertizing spending.
Last year, Serge Lutens released a stylish poster for Rousse but it is still unusual to lay eyes on a niche fragrance advert. The reason for this extra publicity effort is that, as I learned, Tonka won the "Oscar" for best unisex perfume of 2007 by Cosmétique Magazine a leading cosmetics trade magazine in France. The composition is signed by perfumer Fabrice Pellegrin...
Coincidentally and before even realizing the fragrance had been distinguished by a prize, I had bought it at long last, based on my fond memory of it. It was still fairly easy for me to conjure up its exceptionally smooth texture, round body, and luminous, comforting personality.
With the lights starting to twinkle on early-days Christmas trees and eager to be bedecked main streets, the seasonal lights reminded me of the gentle glow of the perfume creating a craving for the intoxicating scent of tonka bean in the raw which is to put it simply like a more vegetal, almost watery vanilla for some of its facets, yet also smoky, leathery and savory, with hints of coconut and hay.
I recalled then that the Esteban rendition was probably one of the least perfume-y ones offering a nice one-note aspect......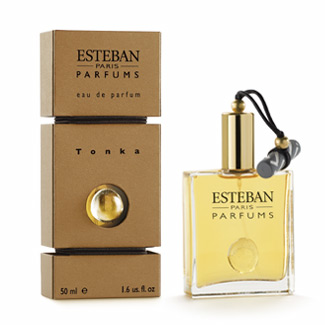 Tonka eau de parfum
Tonka by Esteban is simple, without being over-simplistic. The scent starts on a slightly sparkling white-wine accord as if the honeyed notes of tonka had been made to infuse in a cup of Champagne, or as if you had just caught a whiff escaping from a glass of white Martini in which a green olive is dipping on a toothpick.
Of course, it also smells like ginger ale due to the ginger note in it albeit in a more liquorish-y fashion. Then the scent becomes more animalic, dirtier and leatherier but without making too much of a fanfare. There are also tinges of aromatic herbs. The impression prolongs itself into a sensual and slightly discordant facet of pungent leather. It soon smells of musky goat skin the way they are prepared by tanners from North Africa, or alternatively evokes a barnyard (a little like in L'Air de Rien by Miller Harris), in an understated way. The dirtiness of the scent is always safely contained.The perfume seems to make a bit of a disappearing act at times probably due to partial anosmia to musk. As it comes back wafting towards you, you re-discover its honeyed, tobacco, and blond vanilla facets.
Picture via eBay Canada (edited) - author unknown
Tonka was traditionally used to scent tobacco snuff and so this aspect recaptures a time-tested scent association, which is harmonious and mellow. Then the perfume becomes woodier - and more cedar-y in particular - although they rather mention sandalwood and it does smell more characteristically like sandalwood in the longer dry-down.
Pink pepper is quoted but is very fine and completely blended in: it feels warm but not astringent. The dry-down is a feast of warm honeyed blond notes: all the sweet nuances of tonka appear, only toned down by a slightly smoky edge as the notes expand and diffuse themselves in the most excellent manner.
Tonka is a luminous and sophisticated gourmand perfume. Although there are discernable stages in the perfume, those remain discreet and overall the perfume feels like a linear composition meant essentially to showcase and enhance the natural facets of a delectable raw material.
Note: This review is for the eau de parfum version. The bottle on the advert seems to be the eau de toilette version.
(Images: Elle Déco Dec 2007 via Images de Parfums Forum, Esteban)