Shopping Tip: New Oscar de la Renta E-Commerce Website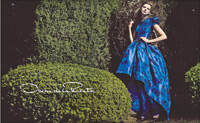 Oscar de la Renta has opened a new e-tailer website. Fragrances that are made directly available from the brand are: Oscar Crystal Parfum, Oscar Eau de Toilette, Intrusion Eau de Toilette, So Eau de Toilette, Pour Lui, and Oscar Mens.
The house of Oscar de la Renta offers a selection of beautiful ultra-feminine romantic perfumes. This is a good reminder, I think, that we ought to revisit their line. That also reminds me that I need to put together a list of uber-feminine perfumes for TSS.
Source: Women's Wear Daily