New Perfume: Alma by Rosario Flores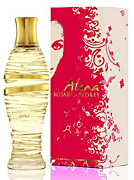 Alma is an upcoming celebrity fragrance by Spanish pop singer and actress Rosario Flores. The perfume will launch only in Spain and Latin America. Rosario Flores is the third daughter of the late and legendary flamenco dancer, singer, and actress Lola Flores. Alma will be available in Eau de Toilette concentration. The name Alma ("soul") was chosen to evoke "the power and passion that Flores puts into her singing"...



"Composed by Perfumería Gal nose Manolo Barrado, the woody floral features a lingering ambery back note. The clear glass bottle, whose design is meant to represent the fluid movements of the singer on stage, comes in a vivid red case.
The ad campaign is based on a song that Flores wrote and performed specifically for the launch based on the idea that one can feel and smell the soul.
Rollout begins on October 20 on the Spanish mass circuit, to be followed by Latin American markets in spring 2007. The product is priced €12.90 for the 100ml EdT. A second Rosario Flores fragrance is planned for next year".
Source: Cosmetic News