Perfume Short & Celebrity Scent: Maria Sharapova by Maria Sharapova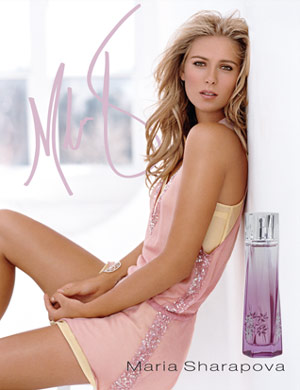 Maria Sharapova by Maria Sharapova was launched in 2005 and was created by nose Carlos Vinals. The tennis player reportedly actively participated in the design of the fragrance. She follows the examples of other tennis players who launched celebrity fragrances and which include Roger Federer, Andy Roddick, Bjorn Borg and Chris Evert.

Maria Sharapova includes notes of sweet mandarin, bergamot, pomegranate leaf, cassis berries, lemongrass, gardenia, jasmine, magnolia, dewy English rose petals, Wimbledon grass, Cashmere musk, white amber crystals and a dash of vanilla.....

The opening of Maria Sharapova is clean, fresh and sporty as befits the perfume of a tennis champion. The heart of the fragrance however soon develops a sultry accord with a dominant impression of white exotic and luscious flowers based on a bouquet of gardenia, jasmine, and magnolia. The white and beige creaminess of the perfume accentuates overtime with, later, a hint of a toffee note in the background lending a light gourmand touch. The vanilla sweetens the perfume all along.
After this more sensual and daring passage, the perfume lightens making you think of something transparent like crystal in reference to the amber crystals. The fragrance then gradually becomes more aquatic with the dewy English rose petals note making its presence felt. There is also a very light powdery undertone.
The drydown is clean, fruity, vanillic, and musky. I can see adolescents and young women wearing this perfume very easily on a date. It is sexy, flirty, uncomplicated, and young, with a touch of provocation to spice it up and play with one's budding womanhood.
Full retail prices for the edp are $45 and $59, but it is easy to find it for a discount price on the net, starting with eBay.