Perfumista on a Shoestring: If You Love Soir de Lune by Sisley, You Might Settle (for a time) for L'Arte di Gucci by Gucci or Even Gucci III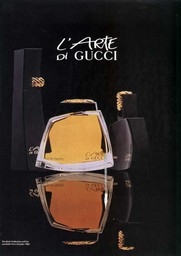 Despite the title of this post, honestly, in this case I would recommend that you save your pennies to get Sisley Soir De Lune when you can because it is hard to settle for something less impressive once you have experienced the fineness of this scent. Nevertheless the two other chypres I suggest here are great and smell similar, it is just that they pale in comparison with the latest Sisley.

L'Arte di Gucci is very, even extremely similar to Soir de Lune except that the latter is more of everything than the first one. It is more subtle, more elegant, more expensive-smelling. The difference is not huge but it is enough for Soir de Lune to become the gold standard for this type of chypre....
I am mentioning Gucci III also because it smells similar to L'Arte di Gucci and seems relatively easier to find. It is much more assertive than L'Arte offering a conquering sillage. The first time I smelled it, it made me stop dead in my tracks and I had to ask the friend who was wearing it what it was. I love it but it is on the strong side and excesses are easily committed. Gucci III is the 1980s version of L'Arte which was created in the 1990s if you will, meaning that it is more of a power perfume. Soir de Lune could certainly be considered a power perfume of sorts, not because it offers an outrageous sillage that will stop traffic but because it exudes a subtle patrician character.

Here are your three perfume relatives:
Soir de Lune by Sisley (2006): Top notes are bergamot, mandarin, lemon, coriander, nutmeg and capsicum pepper oils. Middle notes are May rose centifolia and mimosa flower absolute, jasmine, lily of the valley, iris and peach. Base notes are woody moss, musk, honey, sandalwood and Indonesian patchouli.
L'Arte di Gucci by Gucci (1991): Notes are Bergamot, fruits, coriander, aldehydes, greens, rose, jasmine, lily of the valley, mimosa, tuberose, narcissus, geranium, orris, amber, musk, oakmoss, patchouli, leather, vetiver.
Gucci III by Gucci (1984): Aldehydes, bergamot, coriander, calyx, greens Heart Notes: Rose, jasmine, narcissus, tuberose, lily of the valley, orris Base Notes: Amber, vetiver, patchouli.
Ultimately this post is an invitation for you to try all three and compare the perfumes. Skin chemistry does play a role.