Maharanih by Parfums de Nicolaï {Perfume Review & Musings} {New Perfume}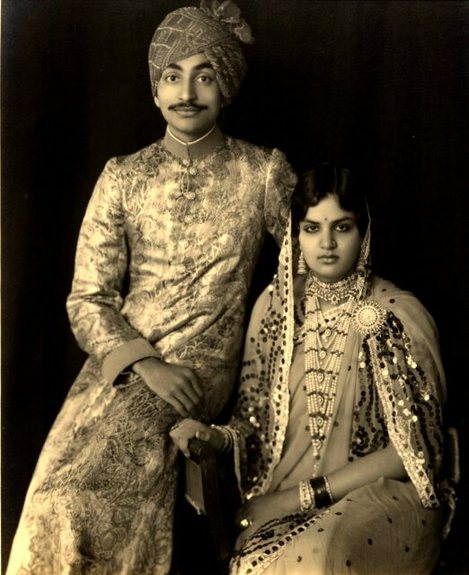 HH Maharaja Sir Rajendra Narayan Singh Deo (1912-1975) and HH Maharani Kailash Kumari of Patna
Maharanih is the latest creation by Patricia de Nicolaï, nose and founder together with her husband Jean-Louis Michau, of Parfums de Nicolaï, a Parisian niche perfume house created in 1989.
Overview of the Line
In a milieu where heredity and tradition still play an important role, it is not irrelevant to point out that Patricia de Nicolaï is a member of the Guerlain family. What is less conventional is that as a woman she decided to pursue a career as a perfumer, a decision that was initially met with skepticism by the Guerlains.....
I remember reading that one of her uncles attempted to discourage her as he told her that she would probably stop in her endeavors once she became married and had children. It is a well-known fact that women in the Guerlain family assume the specialized roles of muses for the men who compose perfumes inspired by them and their love for them since in the Guerlain worldview a perfume is first of all an homage paid to a woman. Apparently, no other Guerlain women rose up to the challenge of becoming a perfume creator since the beginnings of the house in 1828.
With Parfums de Nicolaï, Patricia de Nicolaï has created a great quality perfume house and their compositions are all worth exploring. I love their line as well as the spirit of the house which is both unpretentious and refined. Their creations seem to present common traits such as a mix of sensuality tempered by elegance, a taste for Orientalism that remains French, i.e., classically balanced, a love for natural, fresh smells. Their bases are a bit reminiscent of the old Guerlain bases or the ladylike yet carnal bases of Dior perfumes but often in a more subtle and lighter way. In a market seemingly dominated by showy perfume launches that often turn out to be disappointing, Parfums de Nicolaï is the reverse of that phenomenon. It is a discreet perfume house that consistently surprises you with the high quality of their creations. The house seems to be all about substance rather than show seemingly living up to the words of one of their ancestors, the founder of the Guerlain house Pierre-François Pascal Guerlain who liked to stress that "glory is but fleeting....only reputation is lasting."

Their boutiques offer the charm of neighborhood family-based perfumeries where members of the family attend themselves to customers instead of just employing SAs. Their price policy is also worth mentioning; they do not believe in exclusivity but rather prefer to offer flexibility in their pricing: their smallest 30 ml sizes are available between 20 and 30 Euros and you can even find very light versions of their perfumes for 16 Euros. The latter were made for the practical purpose of satisfying customers who do not tolerate very strong scents.
Co-founder Jean-Louis Michau is an economist by training and I must say that his price management makes a lot of sense to me. I hope they can keep it that way. It, combined with the quality of their products, certainly encourages one to buy a library of scents when one enters a Parfums de Nicolaï boutique.

Perfume snobs might be turned off by the possibility that just about anyone could wear the Parfums de Nicolaï fragrances, including their help, as Frédéric Malle would probably point out with horror, but the quality is so evidently present that I don't see how they could resist the appeal. One of my favorites from the line, Vie de Château, is jaw-droppingly handsome and I would not hesitate to say, one of the best-smelling fragrances in all of Paris despite the fact that the competition there is very real.
The Perfume
Their latest concoction, Maharanih, is described as an ambery woody perfume. It contains notes of bitter orange, geranium, lavender, cinnamon, and sandalwood. To that I would add that the base smells also of musk and civet.
The perfume starts with a spicy fresh orange impression rounded off by a mellow and warm amber. The amber is sweet and animalic. The perfume very quickly becomes more heavily sensual with dirty herbal overtones. It is a perfume of contrasts, being both soft and tonic, animalic and aromatic, warm and fresh. For example a slightly chocolatey impression is refreshed by notes of lavender or the amber is made more fresh and luminous due to the bitter orange that radiates through it. The base becomes more distinct with time and reveals notes of musk and civet which turns the scent into a sexy skin scent.
Maharanih can be used to emphasize one's sensuality as well as energy, the latter since it has some tonic properties, I find. It stops short of being lascivous although it does not abandon that persona completely. If Sacrebleu evokes more a boudoir, Maharanih conjures up the image of a fountain in an Oriental garden planted with orange trees in which the breeze plays about running on the surface of the water, caressing the oranges, and finally blowing through the slated windows made of sandalwood through which a maharani watches the garden while resting in the shadow of her palace. The perfume evokes a certain langorous abandonment to sensual appreciation but also evokes the possibility of action. It is a delicious and rather complex perfume that smells distinctive in an understated way.
You can find most of the line in the US at BeautyHabit although Maharanih which was released very recently is not yet part of their catalogue.