Les Exclusifs by Chanel: An Overview {Perfume Review & Musings} {Scented Thoughts}
The Total Chanel Look in the 1960s
In the weeks leading to the release of Les Exclusifs by Chanel (please read our previous post for a description of the line) what we had to go with were the names of the perfumes, the descriptions of the notes, and the interviews of the perfumers who composed the new fragrances, namely Jacques Polge in association probably with Christopher Sheldrake although this last point is left rather vague.
One could identify two aesthetic orientations in the comments: the evocative-artistic one and the tradition-bound house-of-Chanel-inspired one. Names like Bel Respiro, 28, La Pausa, Coromandel were almost Baudelairean or Proustean in their appeal promising us an art of evocation, what perfumery is best at creating: immediate emotion, a sense of place. We would travel on the wings of La Pausa and alight in the villa haunted by Chanel's spirit while feeling the soft breeze caressing the palm trees and even hear the creaking noises of the furniture and smell the fresh velvets of the cushions or something like that. Coromandel would be, could only be terribly poetic and rare. Instead it seems that the tradition-bound Chanel-inspired current of thought has weighed in heavily in the creations of the perfumes......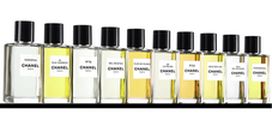 Les Exclusifs will mostly offer you the guarantee of elegance. These are well-tailored perfumes. Some are even inventive like 31, rue Cambon which makes use of a substitutive accord of iris and pepper for oakmoss, as reported by Luca Turin. The perfumes smell good of course - that would be the last straw if it were not the case - but they feel more like luxury fashion accessories that will be used to complete an elegant look and a Chanel look at that most probably, than independent works of art. They feel branded, almost banal at times, sometimes being a bit reminiscent of Chanel no5 or Chanel no19 here and there even in the way the iris or galbanum are made use of. I can very well see good Chanel clients buying a few of these bottles as true toilet waters as they shop for other things.

There is also an air of homogeneity that runs through them that is a bit preoccupying to me as it seems to want to impose a manner rather then spring forth from deep conviction. When Jean-Claude Elléna uses a minimalist style he makes me feel that it his own way of thinking about and seeing the world, inspired by Edmond Roudnitska yes, but deeply made his own. This line of thought of his has gone quite far if you take a sniff at Paprika Brasil by Hermès which appears very minimal, almost naked, but which feels authentic. When you consider the minimalism that appears in Les Exclusifs, it makes you think at best of stylization and at worst of mannerism. I tend to lean towards the latter perception. It is possible also that more simply put Jacques Polge was influenced by the Hermessences line.

If you take 31, rue Cambon and Coromandel there seems to be a clash of visions rather than an interesting contrast between the manner which is pared down and rendered minimalist and the spirit of the perfumes. On the one hand, the perfumes pull you in the direction of thinking of classic bourgeois richness and comfort with their warm accords, on the other hand they do it in a style that cuts short that message. The effect is that of a balloon that grows rounder and suddenly gets pricked by a needle calling our attention to the interesting lines of its flattened self. In the end we get a certain sense of mannerism, of compromise between a fidelity to the bourgeois luxury image of the house of Chanel and a school of thought that would decree that minimalism in perfumery and couture is an appropriate fad for the culture of the elite.
It is also not altogether clear why Chanel decided to go with body splash size bottles and, indeed, true eau de toilette concentrations. Even when 31, rue Cambon starts developing a lovely chypre accord, the traditional pleasure of wearing a chypre which is about creating a sillage that separates readily from the body and moves into the space of a room is cut short by the real lack of tenacity of the perfume. I want to use the word "lame". There is a certain lameness about the line. There is a sense of forced ideas and concepts onto Les Exclusifs that makes the experience frustrating. Very rarely does one feel a soar in the perfume, a sense of following simply the beauty of an ingredient and letting that natural beauty unfold. At any rate, any trace of lyricism that appears is short-lived. The problem is that it started by suggesting it rather than replaced it with a more modern equivalent.

The fact that just one large 200ml size of eau de toilette is available and in just one concentration, seemingly made for people who like the idea that elegance is about understatement, reinforces the impression of a take-it-or-leave-it approach. If you think it is genius or love the Chanel brand, well buy it. If you think it is less than genius then think twice about it before purchasing it.
Les Exclusifs more than being about masterpieces of perfumery are about the promotion of an image of chic, elegance and "bon ton" à la Chanel with the added twist of a "niche-perfumery-feel" emanating from their perfumery section that seems a bit contrived, much more so than at Hermès. Perhaps this suddenly felt need of an incursion into modern niche perfumery aesthetics however superficial and codified here explains why Chanel was interested in hiring Christopher Sheldrake. The result is a bit odd and quizzical. Perhaps with time a better balance will be found, if only in the concentrations.