Vierges & Toreros by Etat Libre D'Orange {Perfume Review & Musings} {Men's Cologne of the Week}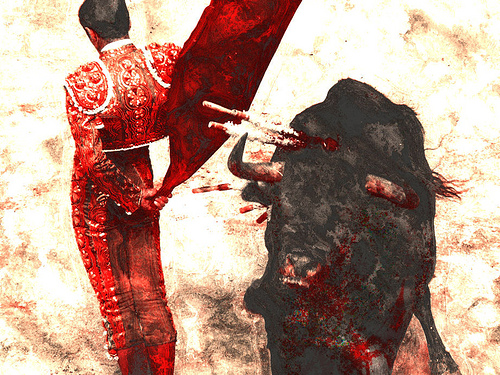 Blood and Sand in Nîmes by loran_denim
Vierges et Toreros (Virgins and Toreros) is one of the two new perfumes launched by the niche perfume house Etat Libre d'Orange, established 2006, whose collection now comprises 13 scents. The fragrance was created by Antoine Lie and Antoine Maisondieu and contains notes of bergamot, pepper, cardamom, nutmeg, tuberose, ylang, leather, animalic base, costus, patchouli, and vetiver.....
Although Vierges et Toreros possesses an olfactory connotation of brutality in its use of a rather raw and even beastly impression of a leathery accord, it falls short of smelling as disturbing and libertarian as Sécrétions Magnifiques. In this case, semantics and semiotics offer more shock-value than the actual perfume.
If we are to reflect further, the story that is proposed here of a torero fighting a bull in the arena and exciting it with the ruby blood-stained snow-white bed sheet on which he just deflowered a virgin offers some comic relief, after all.

Etienne de Swardt, the founder of the brand, characterized Vierges et Toreros as a "tuberose scent for men". It is a leather floral perfume in which the virgins are roughly represented by heady floral notes and toreros by animalic and leather notes as well as costus, a note smelling of dirty hair and grease, fur, or wet dogs.
The perfume starts with the most exquisite powdery and floral trail showcasing a heady, sharp tuberose on a bed of fatty, sweaty leather. The latter makes one think of coarse greasy leather boots rather than refined leather. The perfume then progressively develops a fuller impression of the tuberose enhancing its sharp indolic facets. There are faint warm milk undertones.The leather becomes more pronounced too now suggesting burnt rubber. The scent mellows down and the toreros finally take over the virgins; it has become a much more masculine scent just a little softened by the flowers.
The drydown is more indefinite with the greasy hair note of costus being fairly tangible. If you like naturalistic perfumes like Musc Koublaï Khan by Serge Lutens, you will find some charm in this one. I wished the virgins had taken over the toreros as the initial floralcy is strikingly beautiful and especially well-perceived on a strip. Alas, in the battle of the sexes that took place on my skin turned into a theatrical stage, the toreros triumphed and left the dust of the arena curiously wearing greasy boots in the sweltering heat of summer while discreetly holding in between their teeth pieces of tuberose, ylang ylang and orange blossom.
The line is available at Henri Bendel.
You can find more information at Etat Libre d'Orange