Vetiver by elizabethW {Perfume Review & Musings}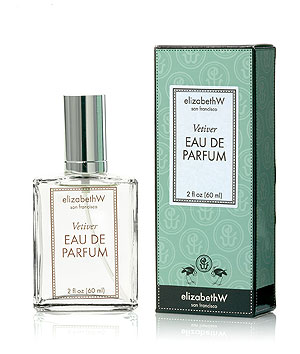 ElizabethW
is an artisan perfumery based in San Francisco which was founded in 1995 by Albert Nichols, a former architect, and Michael Lindsay, an ex-management consultant and journalist. The name of the house pays homage to the great grandmother of Albert Nichols, Elizabeth Wightman, whose spirit of independence and determination which led her to found a ranch in the Sierra Nevada in the 1800s, continues to inspire her great grandson, just like the olfactory memories derived from that childhood home do........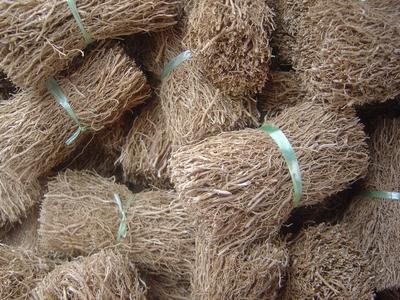 Today, elizabethW has succeeded nearly 12 years after its establishment (their anniversary is in October) in garnering a clientele of celebrities that include Oprah Winfrey, Christina Aguilera, Naomi Watts, Amy Brenneman, Danielle Steele, Harrison Ford, to name only a few.

The brand philosophy relies on simplicity and purity of concepts and lines. They offer an attention to detail and emphasis on a lifestyle approach that translate into an unusually varied array of ancillary products that go from drawer liners to pajamas (Sharon Stone loves the latter ones) while including more classic bath and body products alongside the perfumes. Each fragrance is declined in 20 different products. The packaging - especially the boxes - is very elegant.

The fragrances are simple without being overly simplistic. They are clean, evoke a carefree spirit (the great price policy contributes to that sense of ease), and range in style from casually elegant to sporty and romantic. Each scent focuses on a main note supported by secondary nuances. We will offer short reviews of several of the scents we were able to sample in the upcoming days as well as of some of their body care products. Today, we will review Vetiver, one of our favorites from the line,

Upon inhaling the first whiffs from the bottle (one is not supposed to form a first impression in this manner by the way because it is deceptive; fault our bad instinct.), Vetiver by elizabethW seemed to take the route of a rather heavy Oriental rendition of the earthy-smelling root as it appeared to be mainly laced with vanilla and patchouli. Upon application though, the jus appears significantly subtler even though it still offers a heavier texture at the beginning of the development than in the following stages. The classic Oriental feeling remains but only for a short period of time and it is less heavy thanks to drier, more astringent coffe-like and cocoa-like nuances that could just be naturally-occurring facets rather than notes. It actually smells more like a fougère once on the skin, tending towards the masculine in that sense, but still unisex and refined enough to be worn by a woman. As the perfume unfolds and while the smokiness of vetiver endures, the scent becomes also lighter, more luminous thanks to the main vetiver accord being folded into lightly fruity - and we want to say, singing - hesperidic notes. There is a stage in the middle that distinguishes itself by a spicy note of clove. Further along, Vetiver becomes more and more luminous, partly transparent, partly earthy, clean as the bergamot and other citruses shoot through the fragrance. The dry-down is light and persistent, sparkling with bergamot counterbalanced by grassy, rooty vetiver, and delectable with tea-like nuances.

This vetiver scent has a thirst-quenching quality about it that makes it especially desirable in the summer. It smells surprisingly good the more it progresses and although a personal adept of the towering classic that is Guerlain Vetiver, I am charmed enough by this vetiver that I will make room for it in the future as well. Bergamot lovers should take note as well, as chances are, that they will love the sunny side of this perfume.

From the official description: Earthy, woody, confidant. An original creation of heavy vetiver, balanced with light, citrus tones and green tints of bergamot from peels of nearly ripe fruit.
A 2 oz. flacon retails for $35. A 1/2 oz travel size spray retails for $20. Click here for the complete list of Vetiver products.
(Sources: Press release from elizabethW, wikipedia)