Ess Bouquet by The Crown Perfumery Co. - When Ess Bouquets were all the Rage in England {Perfume Review & Musings}
Crown Ess Bouquet
When Ess Bouquets were All the Rage in England

ESS Bouquet by The Crown Perfumery Co. as one of the oldest English fragrances to exist is one of those perfumes steeped in history and antique exotic tastes that require further investigation and elucidation to fully appreciate.
First we have to address the meaning of the name, which sounds a bit puzzling to the modern ear: "Ess Bouquet" we learn from Septimus Piesse writing in 1857 is the contraction of the word "essence of bouquet". The original recipe for the scent by an anonymous London perfumer is recorded as early as 1711. By the time Piesse writes his The Art of Perfumery in the mid-19th century this original date has been forgotten and the much imitated perfume formula is attributed to, not its rightful creators whoever they may be, but rather to its famous developers, Bayley and Co., established 1739.
Septimus Piesse thus mistakenly attributes the paternity of Ess Bouquet to its most celebrated makers at the time,
"The reputation of this perfume has given rise to numerous imitations of the original article, more particularly on the continent. In many of the shops in Germany and in France will be seen bottles labelled in close imitation of those sent out by Bayley and Co., Cockspur Street, London, who are, in truth, the original makers.".......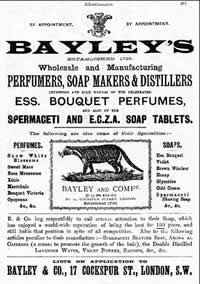 Ess Bouquet was immensely popular, the bestseller of Bayley and Co. who advertised their perfume shop with the name of this fragrance in capital letters in full view.
The perfumery was also well known for its surviving signboard and painting inside the store, some of the last ones in London to bear the representation of a civet cat at the turn of the 20th century - an allusion to the much sought-after perfumery raw material. Perfume shops with civet cat signs were common throughout Europe before such signboards were considered too dangerous to be left hanging over the streets and so they were prohibited.

To understand why the scent was so enduringly popular from the Stuart period into the Georgian and then Victorian periods would require further research.
We can muse and imagine heroines in Jane Austen novels wearing it with some probability that we are not too far off the mark.
It was a perfume that combined the freshness of citruses with the powdery character and elegance of iris and a warm animalic base. For the moment being, we can assume that the perfume, having been elected by English royals as their favorite one might have contributed to its renown. Ess Bouquet by Bayley and Co. was a favorite fragrance of George IV (1762-1830) and later also under the brand name of Crown Perfumery est. 1872, of Queen Victoria (1819-1901).

There was not just one Ess. Bouquet fragrance but rather a type, an original recipe which came to undergo many variations while being sold under the same name. It became somewhat of a generic designation like "eau de Cologne" is and so there were "Ess. Bouquet Perfumes" mentioned in the plural.
When a fragrance is that popular, one does not necessarily wish to keep it unchanged but rather there exists the wish to ameliorate it, to make it prosper further, and to explore its possibilities in order to recruit wearers more widely. This type of practice puts in perspective contemporary demands on the distinctiveness and even uniqueness of a scent, which would be to ignore a tradition of perfumery that has progressed through the dynamic of variation rather than creation. The practice continues of course, but the discourse has evolved.

The basic ingredients of an Ess. Bouquet perfume were bergamot, lemon, orris root powder, rose, ambergris. Variations appeared which included the additions of jasmine, vanilla, musk. Even more complex formulas would have additional citrus, like orange peel, additional floral essences, like ylang-ylang, neroli, rose geranium, woods and spices like sandalwood and cinnamon.

The Ess. Bouquet by Crown Perfumery is a little more complex than the basic formula, but not much more. It retains the charm and simplicity of an old perfume recipe, speaking of simpler times and awakening in us nostalgia for "authenticity" or rather construction thereof.

The initial sensation of freshness in Crown Perfumery Ess. Bouquet has taken on the additional nuances of aromatic herbs (seemingly herbs such as thyme, basil) and lavender. The bergamot and lemons with the addition of limes are as bright as ever. The orris powder is faithfully present together with the rose. The base seems to have become enriched with vanilla, and the ambergris is now paired with vegetable musk, ambrette seed, and perhaps vegetable amber. The contrast between the citrus-y opening and the warm balmy base makes one think immediately of the great classic Shalimar by Guerlain, but as if it were a more bucolic and primitive rendition of it. It is more lightly scented than Shalimar Light. Past the slight bitterness and strong herbal facet of the beginning that seems to rest on a cologne accord, one experiences an enrapturing root-y iris slowly unfolding on a bed of ambergris and vanillic and rosey undertones. The bergamot bursts forth enduringly while being anchored in deeper animalic and balmy notes. The enduring sensual dry-down reveals a delightful elegant fruity and musky note of ambrette seed that is particularly refined. Despite its simple, natural aspects, it is a fragrance that betrays understated old-world complexity.

The perfume is a combination of apothecary charm with its remedial connotations of a perfume meant to revive the spirits with its near-tonic properties allied with a sophisticated elegance hinting at a yearning for the bucolic and the natural from within the confines of the industrial city.
Translated into a modern lingo, one could dub it the office scent of Queen Victoria, with its proper and versatile aspects, but it does not let us forget that this is an office scent that was once worn in crinoline. Nor does it let us forget that country gentlewomen and gentlemen from the Georgian era might have approved of its naturalness and earthy elegant character.

Ess. Bouquet by Crown Perfumery is now discontinued as the perfume house, after having been revived by Clive Christian, is now defunct anew. But the scent can still be purchased at Parfums Raffy, although it is one of the harder-to-find ones.
Read our review of Crown Perfumery Maréchale 90.