{Perfume Q & A} with Kathy of Colonial Drug - Tastes of Summer: 2007 Bestseller Summery Fragrances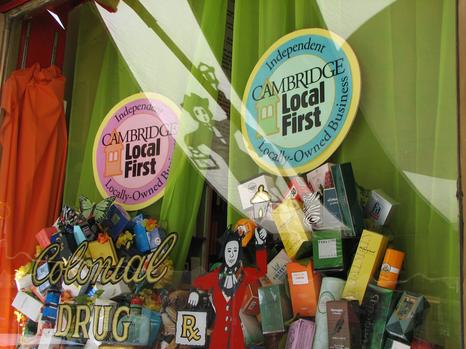 Perfume Q & A with Kathy of Colonial Drug in Cambridge, MA
Kathy B. is the owner of Colonial Drug, a perfume store originally established in 1947 in Harvard Square, Cambridge, Massachusetts, at 49 Brattle Street. It is considered to be an institution both at the very local level and the regional one. According to the Boston Globe, they moved in 2013 to 50 Watertown Street, Newton, MA 02458 (telephone (617) 864-2222.)
The quaint shop on Brattle Street easily evokes a treasure trove that would have been filled to the brim with fragrance bottles and grooming items (for pets as well) instead of precious gems and pearls. This image is quite literal as the very top shelves of the store - the ones which seem to be an arm-length only away from the ceiling - are covered with giant factices of some of the most famous perfumes in the world while still higher shelves manage to nearly touch the ceiling (see link for a picture of the towering shelves)...
Colonial Drug is an overfilled cornucopia of those desirable objects: "hard-to-find fragrances". If you come to the area, it is a must-go destination for fragrance lovers; the last time I looked more inquisitively at their top shelves I spied a rare bottle of L'Artisan Orchidée Blanche (discontinued) for example - and they carry staple European goods like the Rigaud candles.
Their para-pharmacy section is not to be overlooked either; you will find a number of hard-to-find European brands as well. Despite the colonial-era and old-world charm of the store, the selection is edgy and up-to-date on the niche perfumery trends.
Kathy's answer when I asked her over the telephone (they do not do emails) what had been the bestsellers of summer of 2007 so far, was that there was no clear top bestseller because their customers order or come in to look for special and unique fragrances. Instead, there were rather several "bestsellers" that had met with the favor of patrons.
Finally, let me add that it's a pleasure to chat with Kathy about perfumes, as the words in her mouth, when she describes fragrances, seem to roll around like colorful bonbons and take on a near-gourmand quality.
Kathy B. said that they are working on opening an online venue so we will keep you posted. Here is a summary of our talk...
TSS: What were the bestsellers this summer?
Citrus-based fragrances were popular, amongst others.
Eaux de Caron Fraîche, Forte, and Pure (like every summer)
Comptoir Sud Pacifique Cool Tropic Palm, Cool Tropic Paradise
Shelley Kyle McClendon, Tiramami
Keiko Mecheri Wild Berries
Balmain Monsieur Balmain
Truffit & Hill 1805
TSS: Any perfumes that deserved more love?
Kathy could think of two off the top of her head. She mentioned Sonia Rykiel Rose, which she described as "very clean and tailored" and then she evoked its olfactory opposite, that other side of a quintessential summer perfume, suggesting "a great Southern fragrance" that would be "heady" just the right way - and that would be in her view Molinard Gardenia in the Molinard 1849 collection.
TSS: For the non-snobs, what are some of the best buys you recommend?
4711 Kölnisch Wasser
The soliflores by Woods of Windsor are excellent and very cheap, only $25 for 3.3 oz. Kathy recommended in particular True Rose, Lily Of The Valley, White Jasmine, and Lavender.
TSS: For the choosier clientèle, with more exclusive tastes, what would you recommend?
Hermès Eau d'Orange, Jardin en Méditerranée, Jardin Sur Le Nil
Creed Virgin Island Water, Royal Water
Kathy made a comment about the fact that here the selection varied more.
TSS: Fragrant tips for the summer?
It's best to use atomizers in the summer and to not forget to use powders and talc. These tend to be neglected but are great to make shoes, clothes, and skin smoother and drier in the heat. The British powders and talc are especially good and should always be applied in the last stage after you have perfumed yourself - not first, as many people do.
You can go here for more information and check their Facebook page. Dee Stonewall, a loyal customer, writes, "No website. Only takes cash and checks, no credit cards. Outstanding customer service, personal, polite, and VERY helpful w/ its usual wide and deep array of the finest fragrances and personal goods anywhere, online or brick & mortar. They remain the best."
Photos © CHANT WAGNER 2006