Keira Knightley for Chanel Mademoiselle Coco, Nicole Miller Fragrances, British Men are Spiffing Up {Scented Images} {The 5th Sense in the News}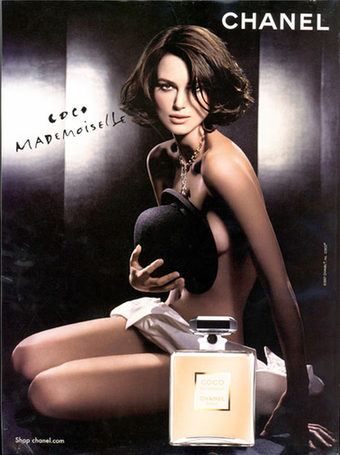 After several legendary beauties were hired by Chanel to front their perfume advertisements over the course of years such as Catherine Deneuve, Carole Bouquet, and more recently Kate Moss, Keira Knightley is the new face for
Mademoiselle Coco
. According to Jacques Helleu artistic director of Chanel, what prompted him more than anything else to elect Knightley were her flaws, which presented him with an opportunity to play fairy god-mother to Cinderella. The new advert where Keira Knightly poses naked, chastely clasping a bowler hat over her breasts closely references the theme of one of the adverts that was shot with Kate Moss, Keira's immediate predecessor. We could start calling them the girl-with-the-necklace-and-hat series...
Jacques Helleu, the artistic director of the fashion house, said it was only after seeing Knightley in the latest film adaptation of Jane Austen's novel Pride and Prejudice, in which she apparently wore no make-up and had her hair pinned back in a bun, that he noticed her unadorned beauty. "Her natural flaws were visible ... Keira wore no make-up. She wore lengths of fabric as dresses. She had almost no hairstyle, just a little bun behind her head. She was a Cinderella in the making!
"For me, Keira embodied perfection itself. She was remarkable without any kind of decoration. And I thought that if this is how she was bare, then I could imagine how wonderful she would be embellished," he said.
Read more in The Independent......
In other news, designer Nicole Miller has announced that she will launch her own line of fragrances for the holiday season of 2008.
British men are spiffing up,
BRITISH men are stepping up their personal grooming and spending more on expensive fragrances than ever before.

Fragrances now account for £141 million of male products sales - up 19 per cent on last year.
Read more in the Scotsman......
Pictures from China Daily and Forum Doctissimo