Intimately Beckham Night Women & Intimately Beckham Night Men {New Perfumes}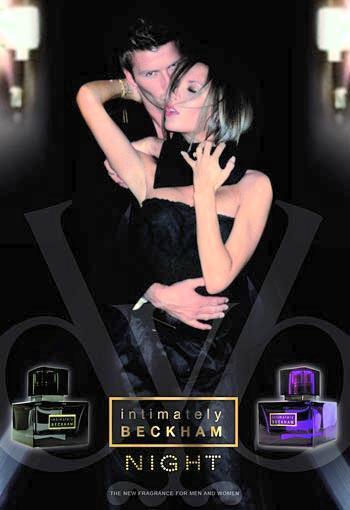 David and Victoria Beckham
are launching a new nocturnal husband-and-wife duo of fragrances this month called
Intimately Beckham Night Men
and
Intimately Beckham Night Women
. This launch expands their fragrance portfolio which already includes
Beckham Instinct
- the original success that was the motor behind the other fragrance developments - and their first him-and-her scents,
Intimately Beckham For Him and For Her
.......
The couple poses once more together on the ad locked in a sultry embrace, but as in the previous advert, and for some reason, only David Beckham is looking directly at the camera while Victoria Beckham's face is turned away as she seems to be too much in adoration of her husband to be noticing much besides him.
Intimately Beckham Night Women was composed by perfumer Jean-Pierre Béthouart of Firmenich. It is described as a seductive, opulent brew with top notes of mandarin, bergamote, and a whisper of cinnamon. This is followed by a bouquet of iris, tuberose, and orange blossom. Base notes are sandalwood, patchouli, vanilla, tonka bean, and myrrh.
Intimately Beckham Night Men was created by nose Andrea Lugo of Takasago. It is described as a woody scent with a prelude composed of notes of bergamote, mandarin, cardamom, nutmeg, and ginger. It segues into notes of coffee bean, jasmine, violet, and cedarwood. Base notes are amber, incense, patchouli, vetiver, vanilla, and tonka bean.
The women's perfume will retail between 15.50 and 34 Euros in Europe and the men's scent between 18 and 26 Euros.
(Sources: Cosmoty.de, VictoriaDavidBeckham)