Diorlight Lipgloss Necklace: Dreams of a Pomander Necklace {Holiday Shopping Idea - $100 or Less}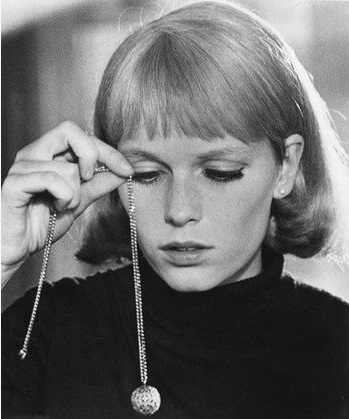 Mia Farrow in Rosemary's Baby studying the foul-smelling pomander pendant she is made to wear during her pregnancy
Dior has released a limited edition lip-gloss encased in a wonderful spherical pendant called Diorlight. We wanted to write about it because after seeing it in reality, it struck us as better-looking in person than on pictures. The differences? Diorlight's proportions are bolder than we had imagined them to be, so it makes it a more substantial, sculptural piece to play with and wear. It has a good quality sense of heft to it, without being too heavy, which can then cheapen a jewelry piece at the other end of the spectrum. So, it does not look or feel flimsy at all. It is just a beautiful ball pendant, encrusted with crystals......

Since we saw the movie Rosemary's Baby (1968) in which the heroine is made to wear an ominous big pomander pendant on a long chain (Diorlight is bigger), we have been lusting for a similar piece of jewelry offering the same functionality.
These pendants were apparently more popular in the 1960s and 70s. There used to be a Florenza pomander pendant that approximated that, but it is not easy to find.
The Diorlight pendant is a limited edition; it would be even more of a motivation for customers to buy it, we think, if it could be refilled with Dior perfumes in concreta versions in the future!
The Diorlight Holiday Bright Lipgloss is available at Nordstrom for $90.
Photos: Style Today, Imdb