Myrte - Myrtle by L'Occitane (2007) {Perfume Review & Musings} {New Fragrance}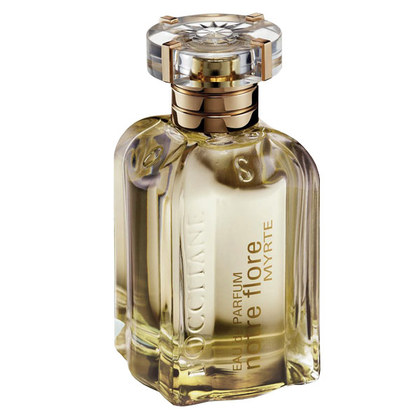 As previously
announced
,
L'Occitane
introduced this fall a collection of four fragrances called
Notre Flore
(Our Flora) and
Les Quatre Vents
(The Four Winds). It is inspired by richly historic aromas of the Mediterranean region, in particular as they were perceived by mariners upon approaching the coastal areas. Myrtle in this case is the scent carried by the winds around Corsica, which signaled the imminent appearance of the "Island of Beauty".
The concept is a priori lovely as it intertwines history, affective memories, and poetry. To attempt to recreate the past through an immediate olfactory sensation is the best time-travel machine man has constructed thus far. Devoting attention to very specific micro geographic areas and and attempting to revive a history of the senses, further contribute to the interest of the project........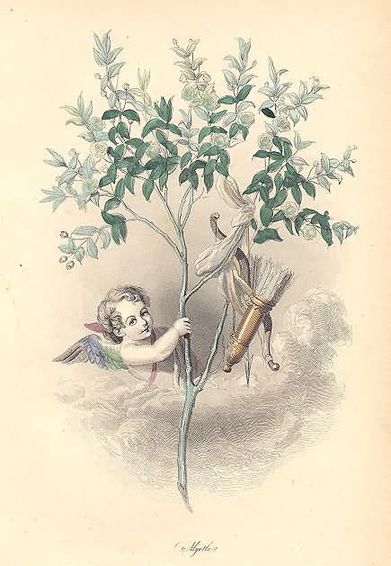 "Le Myrte" in Les fleurs animées by Grandville, 1867

Each perfume stands also as an invitation to reflect more about an ingredient traditionally used in perfumery. The history of the use of myrtle is particularly rich and less well-known than for two of its counterparts, Neroli and Iris. We tested Myrtle and Neroli thus far and both perfumes, we note, offer interesting plays on textural effects. Myrtle is like a delicate glove made out of what people in the past called "chicken skin" so fine it could be contained in a nut shell, and Neroli would be one cut out of thick velvet.

Myrte or Myrtle by L'Occitane also constitutes a reference to a famous traditional cosmetic lotion called "L'Eau d'Ange" (Angel Water) which was very fashionable especially in the 17th century and which was based on myrtle (Myrtus communis L). Rabelais a century before that mentions it already as one of the cardinal scented waters of the time. Corsican myrtle is also popularly called "green myrtle" and has the reputation of releasing a particularly marked floral facet.
Félix Brémond in a study entitled Rabelais Médecin (1879) indicates that L'Eau d'Ange was also called Eau de Myrte (Myrtle water) and prized for its astringent properties. It was even better considered than rose water. This eau is not to be confused with another "eau de senteur" called Eau d'Ange as well which was based on Florentine iris.

Myrtle by L'Occitane offers a very soft texture which makes you think of chamois leather and angels' skin but also of an iridescent surface. The delicacy of the composition is noticeable although it could have been pushed further, we feel, in the end. It is a soft floral with aquatic, fruity and sweet herbaceous facets.
The perfume is multi-faceted enough that the facets one picks out each time change. It can start with a plummy, cherry blossom impression or an aromatic one or a sweet herbaceous one for example. They mingle and come to the fore on a whim. The softness is at its most striking the first time you apply the perfume. Myrtle then becomes more noticeably green and sappy with a sugary undertone. It feels like white caster sugar drizzled with clear water. While keeping a green, balmy overtone and a powdered sugar impression, it changes consistency and becomes milky and vegetal a little like the milk exuding from figs. The overall angelic softness is counterbalanced by a sharp note. The fragrance at this point takes on an iridescent color (in olfactory terms) as if the light were refracted through a crystal and became a delicate rainbow.

The fruity-floral aspects of the scent are ascribable in part to a rendition of cranberries that feels quite a bit like peony and lychee, which tend to render the composition less original. The scent becomes soapier and then later on an elegant and smoky patchouli kicks in. The dry-down becomes quite aquatic before becoming again suggestive of an angel's bottom later on. A delicious impression of sugared plums lingers on after a while which is pretty addictive. The dry-down is thus complex, a rare trait in the market nowadays.

It seems that the perfume could have been perfected if the ingredients were more, all of them, less familiar. The scent offers a mix of sensations, some of them refined, others more pedestrian. The perfume's more common aspects are a fruity-floral accord and a soapy, clean, and sharp musk that is not unpleasant but immediately makes the scent feel more déjà vu.
On the other hand, the mix of aromatic sugared water and very soft herbaceous facets is charming. There is also a subtle amber-y body that is felt through texture rather than smell. Some subtler fruity nuances are also appealing such as scents reminiscent of blueberry and juniper berries on a bed of freshly crushed leaves with an undercurrent of citrus bordering on lemon grass.
We have to conclude that the scent is alive enough to present changing facets. The best thing is just to try it. You might just fall under the charm of the myrtle plant dedicated to Aphrodite the goddess of love in the antiquity.
Notes: mandarin leaves, bilberry, myrtle, sea spray, cistus, and patchouli.

You can purchase the perfume at L'Occitane, 100 ml for $65. You can also buy the collection of 10 ml samples for $10 each.
The flacon, designed by Olivier Baussan the founder of L'Occitane, is made of heavy partly iridescent glass (we noticed this detail after smelling the iridescent tonality in the perfume) and a plastic and metallic cap decorated with a wind rose. The four cardinal directions are indicated on four sides of the bottle. The spray mechanism is top notch, offering a very sophisticated diffusion, soft and precise. One side of the box is written in Braille.

(Other sources: Phila Prints Shop, Nature Mania)