Tocca Holiday Mimosa Candle {Perfume Short (Review)} {Holiday Shopping Idea - $50 or Less] {New Fragrance}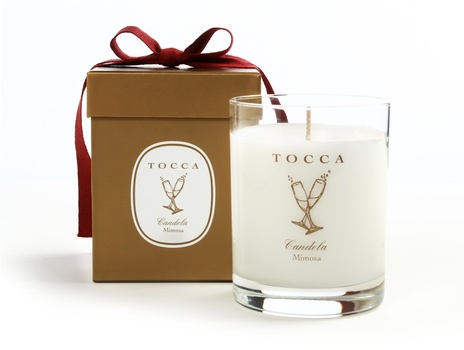 Tocca
released a new limited edition scented candle for the Holiday Season called
Holiday Cortina Mimosa Candela
. Unlike the name of the scent itself seems to suggest but better illustrated by the Champagne glasses decorating the glass container, the perfume has been studied to feel festive as it includes a Champagne top note.......
Mimosa is a winter bloom so it indeed goes well with the cold season theme. We imagined a powdery scent as mimosa is often rendered in a powdery manner with the help of heliotrope but in this case the blended scent is more like a sparkling chypre with fruity - peach, pear - and boozy overtones. In fact it smells not unlike Divine by Divine, a niche chypre perfume. The rose note in the candle is quite prominent. As the scent develops, it feels very bubbly, almost making you want to hiccup!

The presentation is simple yet elegant. It has good throw. The candle does not smell of wax which is an indication of good quality. The scent is not heady. The burn is progressive and smooth. It would work well especially for a New Year's eve party and dinners. For Christmas, one might be tempted by more intimate, warm notes such as amber and spices.
It does not seem to be available anymore on the Tocca site itself, but is available at Candle Delirium, Amazon, Beauty Habit...... for $46. Burn time is 60 hours.