Gaping At Celebrities: Plasticopedia {Beauty Notes}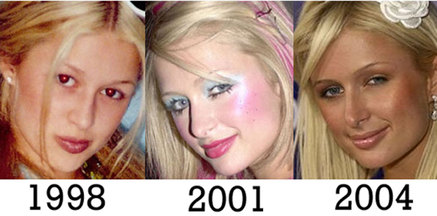 Chronology of Paris Hilton's nose jobs
The question is: did they have plastic surgery, yes or no? In a voyeuristic society that is practicing the sport of intense gazing on HD TV screens loving to exercise distant normative control and passing unending judgmental opinions on famous looks and in doing so sometimes pushing celebrities to go under the knife to correct imperfections normally left alone, Plasticopedia tries to answer your questions and contribute factoids to the public debate....

There is a neat index you can use to locate your favorite celeb or body part that interests you the most. Virtually everyone in Hollywood went to see the doctor. Even people who do not seem to need anything done to their looks such as Nicole Kidman, Catherine Zeta-Jones, Gwyneth Paltrow, Penelope Cruz...ah, but the search for the most refined nose tip and wings is apparently very active.

Will some of the pressure be off for you? Will you want to run to the plastic surgeon's office?
I just heard on the radio that you could get a plastic surgery done for "$4 a day".