The Green Spirit of The Hammam - Part 1: Tadé {Beauty Notes & Reviews}

"The Green Spirit of The Hammam" by Guest Contributor Pauline
The professional trade show Maison & Objet was on last week in Paris. I decided to pay a visit to the exhibition in order to discover the latest trends in that section of the fair devoted to "Fragrances, Bath & Cosmetics." Before being completely overwhelmed by the sheer number of stands in that section, I decided to focus on beauty products that are connected to the enticing world of the hammam and in particular, the natural cosmetic oil that is the most talked about in town these days, argan oil from Morocco.
Two beauty brands caught my attention as I liked the range of their products and their air of authenticity. They are both harnessing the all-natural, green ecological trend that the beauty market is developing more and more in response to consumers' demands while drawing on a very ancient heritage from the Middle East. I bought several products I wanted to try and today, I will talk about Tadé.

TADÉ, Pays du Levant (Country of the Levant) is a 100% natural line of cosmetics that draws on an original historical concept, the universe of the hammam, and proposes products for both men and women.....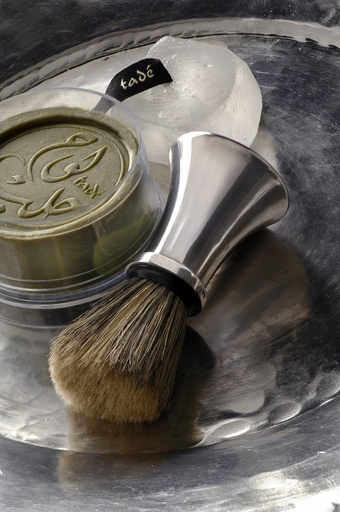 Copyright ©: All Photographies: Bernard Touillon, Grégoire Gardette / Propriété/Owner : Tadé Pays du Levant ®/ Tous droits réservés./All Rights Reserved - Do not reproduce without permission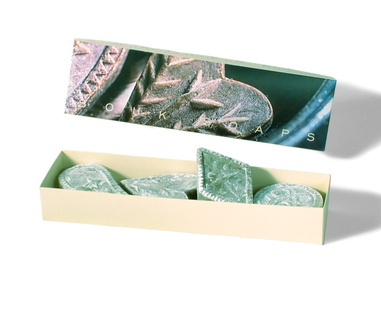 Souk Soaps or Pain d'Alep ™

The brand was founded by Thaddée de Slizewicz after he returned from an extended stay in Aleppo, Syria. His brand gives pride of place to the famed soap from Aleppo whose formula and manufacturing process have remained unchanged since the Antiquity. Made of olive oil, water, sodium hydroxide a.k.a. soda, and laurel oil, the soap mixture is heated in stone cauldrons for three days, then dried in the open air for nine months.
Thanks to its high content in oil, this soap is particularly moisturizing; it is also known to be a natural antiseptic. In the Middle East, the Aleppo soap is also used to wash linens and it is reported to be a good moth repellent. It is interesting to remember that it is in fact the direct ancestor to another famous soap, the savon de Marseille, which is especially popular in France.

I found the products to be most attractive. In addition to their inherent cosmetic qualities, they offer a simple and neat packaging and the products are cleverly marketed. A line of gift boxes labelled "Ritual" followed by a number in the series presents a selection of bath products. They all bear poetic titles, such as "Goddess Ishtar's Regenerating Bath" (Ritual 1), which includes some Dead Sea salt, a black crêpe mitt, a jasmine and black cumin oil and most importantly, "the ritual unveiled", which gives all the necessary instructions on how to use the products.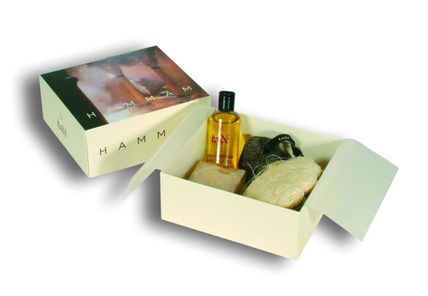 Ritual 3, delightfully entitled "The Divine and Wise Mama," will be launched on the 1st of March 2008 in celebration of Grand-Mother's day that takes place on the 2nd of March in France. This box will contain a clay soap and its accompanying wooden dish, some rhassoul (red clay) mask, a sisal mitt, clay disks, and "the ritual unveiled."

I particularly liked the 100% plant-based exfoliating "Hammam Black Soap," a richly textured paste made of red clay and laurel oil, as well as the "Bath Salt" made of salt harvested from the desert and perfumed with either sandalwood or Arabian Sambac (jasmine) fragrances. This black soap looks at first like a caramel paste. It produces a minimum of suds and as it can leave some residue on the skin, it needs to be carefully and thoroughly washed off.

I was also intrigued by the "Red Clay Hair Conditioner" that was presented in a small flat square case. That is a peculiar packaging for a hair conditioner that one automatically envisions in a liquid formula nowadays. The clay conditioner is actually presented in the shape of four clay disks that are delicately scented with rose. One must simply dilute one disk in a bit of warm water in order to obtain a watery paste to apply onto one's hair. I first crushed the disk into smaller bits and then let it sit for 10-15 mn in the water.

Tadé is an attractive brand and the products I tried are good quality, exotic, and feel natural. One of their compelling features is that they sell a range of beauty accessories and objects that highlight the atmosphere of a hammam world that has gone green, including traditional baskets made out of recycled tires!
What I enjoyed most in this experience is the feeling that I was reconnecting with time. Some of the Tadé products cannot be used in the morning just before going to work because they require a certain amount of preparation, but they can create a rare sense of pampering when used during the weekend. Through their use, you feel like you are standing in a multi-secular line of transmission of beauty secrets. Beauty becomes a ritual, a moment of meditation and detachment from the quick pace of daily life.
You can visit Tadé for more information.
Copyright ©: All Photographies: Bernard Touillon, Grégoire Gardette / Propriété/Owner : Tadé Pays du Levant ®/ Tous droits réservés./All Rights Reserved - Do not reproduce without permission