Avon & Cynthia Rowley Flower & Petal (2008) - Part 2 {Perfume Reviews} {New Fragrances}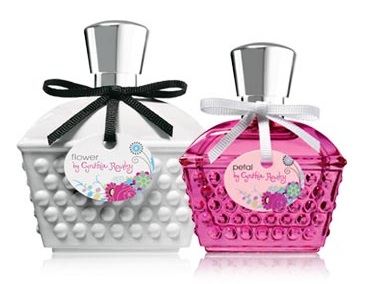 Avon and
Cynthia Rowley Flower
and
Petal
were both composed by tandem of perfumers
Richard Herpin
and
Frank Völkl
who have used the word "
wearable
" to describe their creations destined to the mass-market. The notion of "wearability" is subjective and a bit mysterious if you start thinking about it but usually it means a perfume whose type and popularity have been tested in previous launches within a specific culture and whose smell would be best described by the aesthetic category of "pleasing". If in a given African culture it is the smell of fried buttery onion applied onto the body that is considered pleasing and sexy, it will not be the case in North America and on the global level. A wearable scent does not aim to surprise but builds upon conservative tastes within the group aimed and is non-invasive. The specializations in this case are that Flower and Petal are for women, some older some very young, and that generally speaking Avon is known to be particularly well-established within the lower middle class culture. The nuance here is that Flower and Petal are part of a slightly more upscale designer range developed by Avon.
Of the two, Petal is to us the least conventional. It is in fact an adorable perfume. Cosmetic World reports that several notes in Petal were chosen by Cynthia Rowley's eight-year old daughter and this may explain a certain freshness of concept as well as the playful even tender addition of certain nuances by the perfumers. Flower, which feels retro and more déjà vu might (nothing is positively said about that) have been influenced by the scent worn by Cynthia Rowley's mother as she explained that "
The scent of my mom's fragrance…is one of my favorite memories from childhood
," adding "
I wanted to make something that I could share with my daughters
"......
We did not expect to feel any affinities for a perfume dedicated to little girls, but it ends up, paradoxically, smelling like an edgy perfume of sorts that a hipster brand such as Comme des Garçons could have come up with and you will see why.
The information on Petal is less forthcoming than on Flower whose notes are given in full detail as far as marketing standards go. Petal is described as a lighter version of Flower and as being the result of certain notes having been "
pulled out
" of Flower so as to affirm on the olfactory plane the lineage that links mothers and daughters.
As we said in the
first part of this account
, both perfumes start by smelling conventionally pretty, especially Flower, but reveal some hidden notes that are a real shock to encounter in mass-marketed perfumes that one might have thought cater to the great clean majority. Flower next to Tom Ford Black Orchid is the most candid indolic scent we have smelled in recent memory. It feels actually more frankly dirty in the dry-down than Black Orchid, which in the end opts to conclude on an office scent feel. What is more, the dirtiness present here is not sublimated at all but rendered almost like in a photo-realistic manner.
Flower
Flower is a floral and woody perfume with coconut overtones and raw green grassy undertones. It feels at first like a standard tropical white floral in the spirit of Origins
Shedonism
in particular and
Kai
less. But it is also sharp, powdery, even chalky in texture and amber-y with metallic nuances. It is quite strong. In a way it is a "hard" somewhat aggressive perfume that evokes a retro feel with images of 1950s ladies with overly lacquered hair helmets and cat-eye glasses decorated with rhinestones spending an afternoon at their coiffeur chatting away in a rural town. It smells also a little like retro hairspray. Flower becomes noisy in the course of its development and feels like the olfactory equivalent of an unforgiving ray of sunshine reflected on an iron sheet. It reminds us of Blue Grass by Elizabeth Arden.
The perfume then softens down as it becomes creamier and a bit peppery. Woody nuances make their entrance. The dry-down offers a prominent, long-lasting sandalwood note.
The best part of the perfume was to suddenly discover an unmistakable and frank realistic fecal and cottage-cheese-like indolic accord in the dry-down before it all finally abates. It felt like being transported to a time and place where sewages were wide open under the sky and there existed a different olfactory culture. It is refreshing and puzzling at the same time to experience this sensation as one thought that these notes were taboo in perfumery nowadays. 19th century representations about the stench of the working classes come back and it feels suddenly like one is slumming in Avonland.
Notes are: Citrus, violet leaves, freesia, Casablanca Lily, Freesia, Cashmere Woods, Warm Vanilla, Skin Musk, Velvet Woods and Sandalwood.
Petal
Not only does Petal borrow from the floral notes of the mother scent, but it also develops a similar frank realistic BO accord mimicking the smell of sweaty children running in a garden in the summer.
The perfume starts on a lovely fresh floral and leafy, sappy grassy accord with sweet green banana nuances, which is a bit reminiscent of Gap Grass for part of it. It is lighter than Flower, the mother scent, more transparent evoking a glass of water sweetened with a spoonful of sugar.
Dry woody nuances emerge mingled with sweetish notes. It is adorable, feels pure and innocent and is lighter and more subtle than Flower. The perfume develops some pretty citrus-y undertones. It also smells interestingly a little of scented plastic rubbers and plastic dolls and for these reasons, an adult could interpret the fragrance as having an unexpected modernist Comme-des-Garçons edge to it. There is a little masculine touch to it too with its distinct peppery freesia note, which is more watery in this case. The dry-down smells of clean kid's sweat. Uncanny.
There is a pop culture flavor, something a little iconic like a Kewpie doll about Petal that can appeal to grown-up women who like to make a fashion statement using kidified accessories.