Estee Lauder Pure White Linen Light Breeze (2008): Reflections on Clean {Perfume Review} {Scented Thoughts} {Notebook: Fresh & Clean}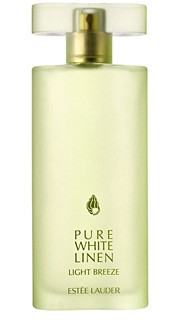 Pure White Linen Light Breeze
inscribes itself in the direct genealogy of White Linen (1978), which had a Breeze version as early as 1996 and was adapted to contemporary tastes with Pure White Linen in 2006. Like each year,
Estee Lauder
put out their summer collection of fragrances, which are usually made to smell of-the-season with the addition of fresh notes and dressed in pretty shades and patterns to accent the mood of relaxation. So this year there is also a Pure White Linen Summer Fun. This review is for Light Breeze only which was issued in the beginning of 2008 to herald the early days of spring.
By now our representations of what crisp linen smell like - and an immaculately white linen at that - has been heavily codified by a whole school of perfumes that aims to capture the quintessence of clean. Given this constraint and given the simple purposes of such fragrances, it is tricky to assess them beyond the fact that they appropriately seem to deliver the promise of an eternal youth for your white t-shirt. With this type of perfume on, your t-shirt will never age, wrinkle, nor smell bad. No, the Ozonic smell takes over and imparts a permanent jus-showered effect that even clean little babies can only dream of......
Considering therefore the abstraction of such compositions and their functional biases, how to give an account of such perfumes? How about how clean do they smell? Is there such a thing as a Richter scale of clean in perfumes?
This idea reveals itself to be fruitful as then, one is made of thinking of clean in more spiritual terms in the sense of an aesthetic ideal barely covering up a moral aspiration and the image of paradise starts looming large on the horizon. Of course the pinnacle of clean is an attempt to express or rather mimic the Christian idea of purity. Seen through such lenses, Pure White Linen White Breeze is not just about cleanliness in this world but purity in that other one and like perfume when it was referred to as "per fumum", it aims to reach the gates of paradise and steal some of the ethereal essence of the divine. Cleanliness is next to godliness we are told.

The comparison (by memory) that seems most appropriate at this point is with the re-edition of Le De by Givenchy, which is a better representative of the idea of clean as the ante-chamber to a more perfect world. In a more literal sense though, Light Breeze is a down-market version of Thé Vert by Bulgari and Thé en Eté by L'Artisan Parfumeur.
Le De manages to feel saintly, angelic yet sensual and human. It is on the threshold of becoming a spirit and the clean there conveys the idea of the good. On a Richter scale of clean, it is very nearly a ten with its capacity to shake, a little, your intimate moral foundations. On that same scale and without smelling them next to each other as it would be unfair to Light Breeze which is not composed of the same quality of ingredients, but just by focusing on the idea of clean, Light Breeze is a five. It smells as clean as can be without starting the ascent towards the moral good. With Light Breeze you are firmly earth-bound, thinking about your holidays, about how best to have fun and keep yourself effortlessly clean. In addition, it serves you a cup of tea shot with a gust of wind. The water quivers a little and spills onto sand-kissed skin.
Will this perfume help you live in a simpler world where everything seems to be coming out of a new packaging - a modern consumer's dream in other words - or will it remind you of laundry chores or more affectionately of your grand-mother's laundry chores? That is the question.
To notes are: Darjeeling tea, bergamot, orange zest, white grapefruit, watery kumquat.
Heart notes are: yellow freesia petals, osmanthus, linden flowers, rose petals.
Base notes are: teakwood, cedarwood, soft skin accord, acacia honey
The perfume is priced at $35, $45, and $65.