Miller Harris Figue Amère (2002) {Perfume Review}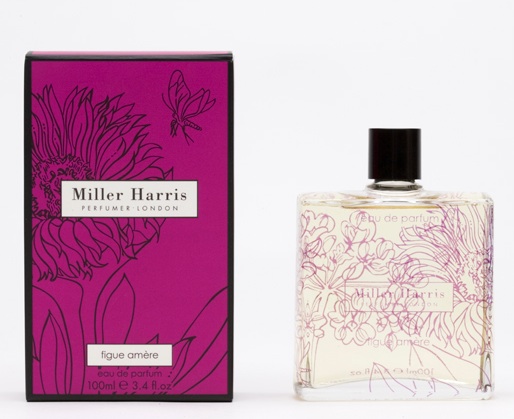 Fruits and Fig in Particular in Fragrances
Miller Harris Figue Amère (Bitter Fig) was launched in March of 2002 in the Nouvelle Edition Collection and joined the Ligne de Parfums in October of 2004. It is part of a modern soli-fruit group of fig-based fragrances that have proved popular and enduring to this day and were developed after Olivia Giacobetti came up with the original idea, paving the way with her L'Artisan Premier Figuier (1994) and Diptyque Phylosikos (1996).
More generally speaking, perfumes that have showcased a slightly incongruous and conspicuous - at first - note of luscious ripe fruit like Guerlain Mitsouko (peach and prune) and Rochas Femme (prune and peach) or even the less mainstream Caron Acaciosa (pineapple) and Patou Colony (pineapple) could be seen to have helped shape wearers sensitivities to the welcome additions of notes subliminally suggesting a mythological golden age and the appeal of cornucopia thereby making fruits feel elegant, decorative as seen in paintings and Roman mosaics hinting at the abundance of the fruits of the earth rather than be perceived to be nibble-worthy. With time the showcasing of fruits in fragrances has become sometimes very realistic and the pineapple with peach in Yves Saint Laurent Yvresse has already become more 3-D......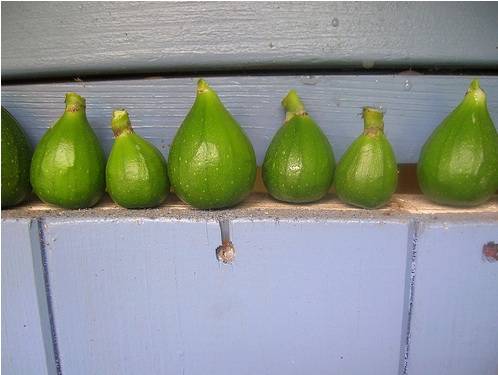 Fig, unlike peach and prune notes, is often suggested through a series of accords that aim to capture the fruit tree in its entirety: its fruity, jammy, even wine-y facets, but also its green, leafy ones and of course the suggestion of milky sap found in these purses cut out of silken fruit skins. It could therefore in principle be selected for one of its aspects but more often than not perfumers seem to like to recreate all of its seductive, summery nuances from top to bottom.

After recently reviewing the new Guerlain Figue-Iris by Jean-Paul Guerlain, we happened on Miller Harris Figue Amère and noticed that the scent was described briefly as "salty figs" and as indicated by its name moreover promised to develop a bitter facet. This held the promise of being a refreshing take on a scent often rendered as unambiguously sweet. It is always interesting to see how an idea is re-interpreted by other artists (or for that matter by the same artist). Perfumer Lyn Harris is reported to have been "inspired during a trip to Ibiza with the scent of bitter ripe green figs being swept up by the astringent salt on the sea air, it is blended with green violet, amber and cedar."

Despite the natural reference, Figue Amère is not the most realistic fig perfume that is. It is in fact quite abstract as if perfumer Lyn Harris had been isolating certain impressions derived from her sensations of figs, such as their dark color and texture, the idea of greenness and bitterness in general, not just of figs, the memory of a wind-swept shore and tied these with some familiar, personal references. Her impressions appear filtered and transformed, displaced by an activity of interpretation rather than expressing the straightforward wish to capture the scent of figs one day in Ibiza as in an olfactory photograph. Therefore figs here are painted with the smell of davana using its dark coloring and deep fruity smell, but also fruity ambrette seed. It does not smell so much of fig leaves as of green blades of grass and of a quote from Chanel No. 19. Like in Figue-Iris, the scent of fig is prolonged in a dusty, flour-y, earthy impression of iris/violet suggesting a dry road at noon in the Mediterranean landscape and by an extension of our desire, the shade of a fig tree under which the smell of soil is wet and fresh. So yes it smells of figs, and no, it does not really smell of figs.
Figue Amère
Figue Amère seems to contain a good measure of natural ingredients as it appears multi-faceted through several wearings and even more than that, shape-shifting. Here is a synthetized impression of the scent as seen through several olfactory snapshots, to our nose.

The scent opens on a burst of galbanum quickly followed by a heavier narcotic impression. There is also a nutty and creamy- coffee-like vetiver facet going in the direction of Hazelnut. The perfume is at first herbaly, a bit mossy, fresh, then perfume-y and candied suggesting figs with a dash of crystallized amber on the point of breaking under your fingers like some perilous and dainty desserty architecture made of threads of caramel. The initial accord then fades into a much velvetier and darker accord with a dominant note of indolic and narcotic davana. For people who know Ormonde Jayne Orris Noir (released afterwards in 2006), it is reminiscent of the davana/orris accord in it.
Figue Amère manages to feel both like a fresh English country garden, even betraying the presence and the simplicity of a kitchen garden, but contrasted with darker, more muted and seductive fruity tonalities offering a caressing textural suede effect derived from what seems to be a faintly fresh and aqueous orris root. The galbanum in the scent is grassy inflecting the composition at times in the direction of Chanel No. 19, especially coupled with iris and some soapy aldehydes as it is in this case, but as if dark purple, almost black figs had been grafted onto it. Peppery and musky facets also shine through at times.

As the perfume dries down, the composition becomes milkier, a bit caramel-like, evoking a recipe of fig butter, with a little bit of a burnt edge. It also reveals a dash of offensive Animalid to bring character to the scent.
Figue Amère blooms very well on the skin (admittedly on this person's skin, but it has this capacity in its form), radiating a champagne-like glow (aldehydes) with light, fresh grassy accents. As the perfume evolves to a quiet intimate finish, it develops a lovely note of Labdanum (vegetal amber) and lets out some fruity and boozy ambrette seed. The deeper base notes are ambery, woody, a bit earthy and dry with a note of tobacco.
The fragrance is not very characteristically salty or bitter. It is a tad savory. There is a natural oxygenated nuance to davana that suggests a bit some sea wind and the longer drydown is beach-like. One might retain this fig scent for its woody tonalities, drier nuances and natural, living accents. The very good quality of the ingredients is to be appreciated.
English gardens were classically opposed in their spirit and style to French gardens. You had a little craziness and eccentricity on the one hand and rationality and structure on the other hand. Having discovered several Miller Harris scents, we see now how a certain sense of poetical meandering and quiet, understated quirkiness can be found to "structure" her scents. Figue Amère is a bit like entering the privacy of an English garden in which the re-worked idea of a fig tree standing by the seaside took form.

A 100 ml bottle of Eau de Parfum can be found for $ 120 at shopkitson.com, bigelowchemists.com, lusckyscent.com or a 50 ml one for $ 95 at beautyhabit.com