Nivea Whitening Range for the Asian Men Market: Fairer Than Thou {Beauty Notes} (Grooming}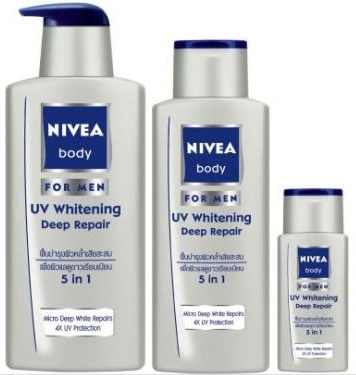 Nivea Whitening products for men for the Thai market

Nivea, owned by Beirsdorf, is continuing to expand its distribution of Nivea Whitening products for Men in Asia due to the success of the line. They just launched NIVEA FOR MEN Whitening Oil Control in India.
Fairness of skin is an ideal of beauty in the region, both for men and women. For men a white skin together with a smooth hairless face are thought to add to their beauty.
We can still remember the Indian matrimonial ads in newspapers putting emphasis on the color of the skin, the paler the more desirable. Tanned skin is associated with the need to toil under the sun and therefore low-class status. Of course in the US and Europe you go buy sunless self-tanners to send the signal that you were last seen in Ibiza.....

The new product incorporates an acne control oil. According to Beiersdorf, "research indicated that more than 60 % of Indian men rate fair facial skin as very important, 40 % are complaining about having oily skin."
Nivea started creating this whitening skin care for men as the latter complained of the lack of effectiveness of feminine products on their skins not to mention the embarrassment of having to go to a feminine aisle to buy the creams.
This whitening range introduced in May 2007 in India has proved be a best-seller. The "NIVEA FOR MEN Whitening Moisturizer, [...] became the No.1 fairness cream at a market share of 35.7 % in the Indian modern trade (AC Nielsen, February 2008)."
Here is an earlier Thai commercial for the Nivea for Men Whitening Acne Oil Control and next a Vietnamese ad for Nivea Whitening Deo for Women where you get a good sense of ideals of fairness both for women and men, especially apparent with the main male model in the second ad,