•• Pop Beauty Lip Lust •• For Your Lip Quenching & Color Needs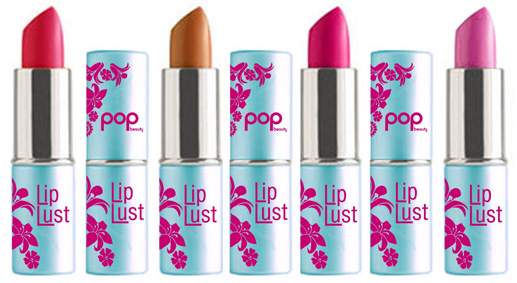 Pop Beauty is a London-based brand founded by musician Sara Strand. They love color so much that they have named themselves after a key makeup concept, "pop". Says Strand,
"The Pop girl is anyone, and according to Strand, age makes no difference. It's just a mindset. "Pop Beauty is really for anyone who is ready to play, or looking for something fresh and funky," she explains. "The Pop girl wants to try something new and slightly edgy." The word "pop," besides its musical connotations, is a term makeup artists use to describe makeup colors that make the face come alive. It's the ultimate finishing touch, says Strand."
What Pop Beauty offers now is a collection of four lipsticks called Lip Lust that have super hydrating properties thanks to good old vitamin E but also thanks to a trendier ingredient, Hyarulonic Acid......
The Hyarulonic Acid fills in the lines and traps the moisture in. Lip-Lust lippies also promise to create a plumping effect.
From left to right, the colors are titled Naughty Red, Dewy Toffee, Flirty Fuschia, Petal Pink.
From the press release, the listed results are,

• Dewy sheer lipstick to add a POP of colour.
• Super hydrating with lip moisturizing ingredients added.
• Silky smooth formula feels weightless on lips.
• Infused with natural food flavourings for yummy taste.
• Gentle formula perfect for dry sensitive lips.

How do I use it - application tips & trix:

• Apply one layer to spice up your natural lip colour, a hint of a tint.
• Double layer to achieve a lip popping effect.
Each lipstick is priced at $13/ $15 CAD. Now available exclusively at Sephora
Via Pop Beauty press release