Ivanka Trump Likes To Wear....{What Perfumes Celebrities Like To Wear}
Ivanka Trump at the Whitney Contemporaries' Art Party and Auction on June 17, 2008 at Skylight in New York. Polaroid © Wireimage
Ivanka Trump's Favorite Perfumes
Ivanka Trump, the daughter of mogul estate developer Donald Trump - who himself launched a signature fragrance in the past - revealed to Town and Country in the July issue what perfumes she likes to wear or use for her home.
Our What-Celebrities-Like-To-Wear column makes sure you know your socialite perfume gossip inside and out......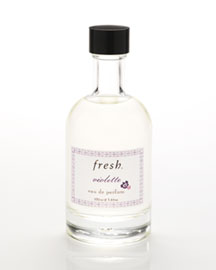 Ivanka Trump, who beyond her glamorous image is in fact an active professional woman participating in her father's business as VP of real-estate development and acquisitions has, as it turns out, a definitive penchant for the soft mauve tonalities of methyl ionones which cover the spectrum of violet and iris aromas. She also seems to favor fresh scents over heavy ones. Her taste at any rate appears well-defined.
For herself she loves to use the Fresh's Index Violette line. The Eau de Parfum is priced at $95 and the candle at $48, at Fresh.com.
Her favorite room scent is Prada Infusion d'Iris. We are not aware that there exists a room spray per se in this line, but there is a perfumed candle, linen water, and drawer lining paper besides the eau de parfum, which can be used any way you wish. Check Neiman Marcus or Nordstrom.
Is Ivanka a shy violet given her fragrance tastes? She is certainly less extroverted than her dad. Violets and irises suggest a predilection for an elegant and romantic style.