Lush Flower Market, Ginger, Icon (2008): Retro Re-Editions {New Perfumes}

Lush
have issued or rather re-issued three discontinued perfumes from their archives in their collection of back-by-popular-demand products called
Retro Lush
. It comprises
Flower Market
Perfume
, inspired by Audrey Hepburn in My Fair Lady,
Ginger Perfume
and
Icon
Perfume
, evocative of a "
Venetian Palazzo covered in crushed velvet and gold-framed-art
" and which pays homage to the spirit of Byron.
The
Flower Market
composition centering on carnation sounds particularly lovely. You have to love the story,
"If you know LUSH well, you'll know that founder Mark Constantine's favorite movie star in the whole universe is Audrey Hepburn. We even opened a shop in Covent Garden, London, where she appeared in My Fair Lady when Covent Garden was still a flower market. Mark created this fragrance for that vision of Audrey Hepburn; it's an unashamedly old-fashioned floral with carnations, ylang ylang and violets. No synthetic designer nonsense here, just a long lasting, lovely perfume."


So lovely it sounds that it is currently out of stock on their site. All the products in the Retro Lush collection are only available online by the way...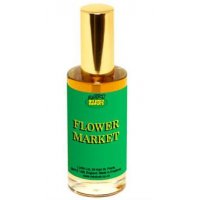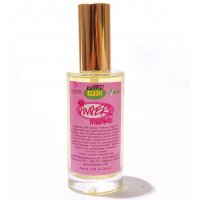 Notes are:
Ylang Ylang Oil (Cananga odorata), Galbanum Oil (Ferula Galbaniflua), Violet Leaf Absolute (Viola odorata), Elemi Oil (Canarium luzonicum), Carnation Absolute (Dianthus caryophyllus), *Benzyl Alcohol, *Benzyl Salicylate, *Benzyl Benzoate, *Citral, *Eugenol.


The
Ginger Perfume
we already reviewed in the past
, but here is the current description of the fragrance,
"Imagine how exciting it must have been to sail to the Spice Islands and discover tastes and scents that you never knew existed, to eat ginger for the first time and feel it warming your body. We take ginger essential oil and combine it with flower absolutes traditionally used to instill calmness and serenity: mimosa, geranium, rose, ylang ylang and jasmine. A touch of juniperberry adds a vibrant, fruity note. Ginger wafts a cloud of South Sea blooms and warmth all around you."

Comparing the list of notes now to the list of notes then
reveals some changes in the listing. It remains to be seen if the perfume smells somewhat different or if it is just a matter of disclosing more ingredients,
Ginger Oil (Zingiber officinale), Mimosa Absolute (Mimosa tenuiflora), Rose Oil (Rosa centifolia), Geranium Oil (Pelargonium crispum), Jasmine Absolute (Jasminum officinale), Juniperberry Oil (Juniperus communis), Ylang Ylang Oil (Cananga odorata), *Benzyl Salicylate, *Cinnamyl Alcohol, *Eugenol, *Geraniol, *Benzyl Benzoate, *Citronellol, *Limonene, *Linalool.



Icon Perfume
is the most opulent and romantic one of the lot,
"Icon is made with deliciously heavy essential oils, mystical myrrh for example, decorated with airy orange blossom. Think of a Venetian palazzo covered in crushed velvet and gold framed art, the pungent darkness broken only by candlelight. There's something Byronesque about Icon; you could imagine it worn by dissolute young men writing passionate poetry at midnight. Like Byron, it deserted us tragically young but unlike that Romantic English poet, it's back."


Notes are:
Myrrh Resinoid (Commiphora myrrha), Orange Blossom Absolute (Citrus dulcis), Bergamot Oil (Citrus bergamia), Sandalwood Oil (Santalum album), Mandarin Oil (Citrus nobilis), *Citral, *Geraniol, *Benzyl Benzoate, *Farnesol, *Limonene.


Flower Market is priced at $39.95, Ginger at $59.95, and Icon at $54.95 for 1.3 fl. oz.